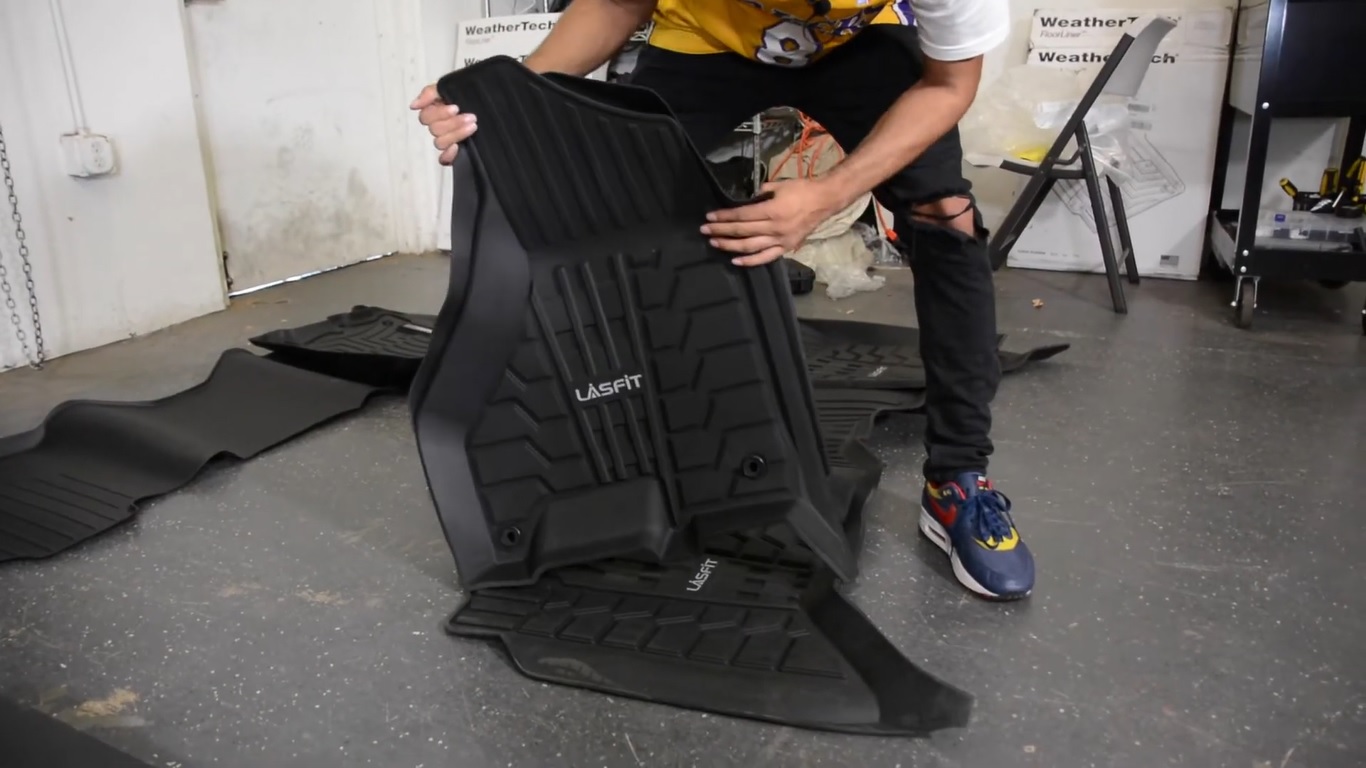 Ever since I bought my Dodge RAM 1500, I could not but do anything that would keep my wheel baby safe. These trucks are precious when it comes to the daily commute, and the interior is just as good as the exterior. So it is only natural to get protective of it.
However, even though the carpeted feature often comes with the truck, regular use and driving can easily fill them with dirt, dust, water, snow, food crumbs, and whatnot. That is why I decided to look for the best floor mats for RAM 1500.
But the biggest confusion comes when choosing the top-rated floor mat. What are the best-selling or reliable ones? How well do they work? How do you choose the best aftermarket Dodge RAM floor mats?
Well, to know that, I suggest you read this article till the very end. Today, I have reviewed some of my top picks and reliable mats in the market. So feel free to check it out!
Top 5 Best Floor Mats For RAM 1500 Reviews
1. Motor Trend DualFlex All-Weather Rubber Floor Mats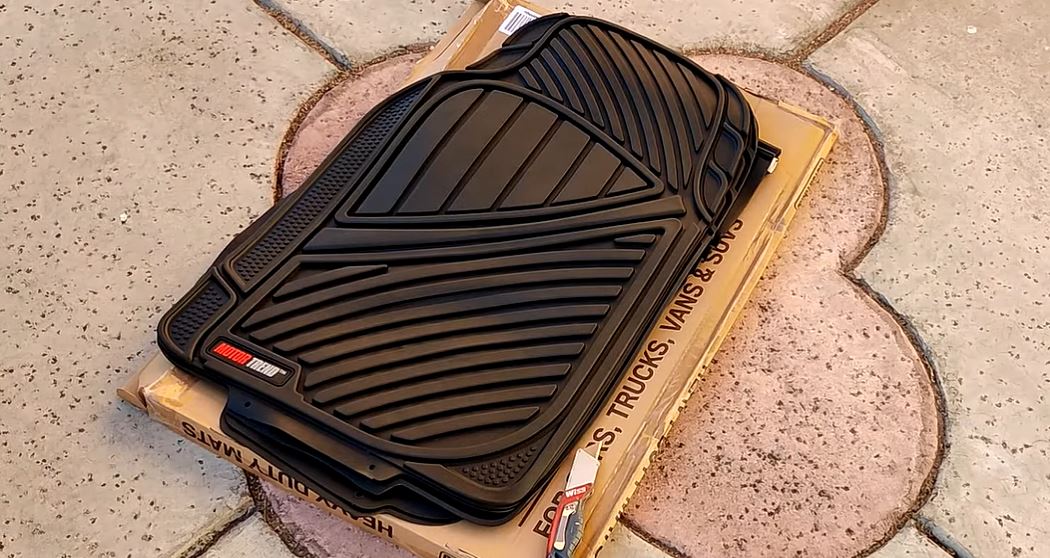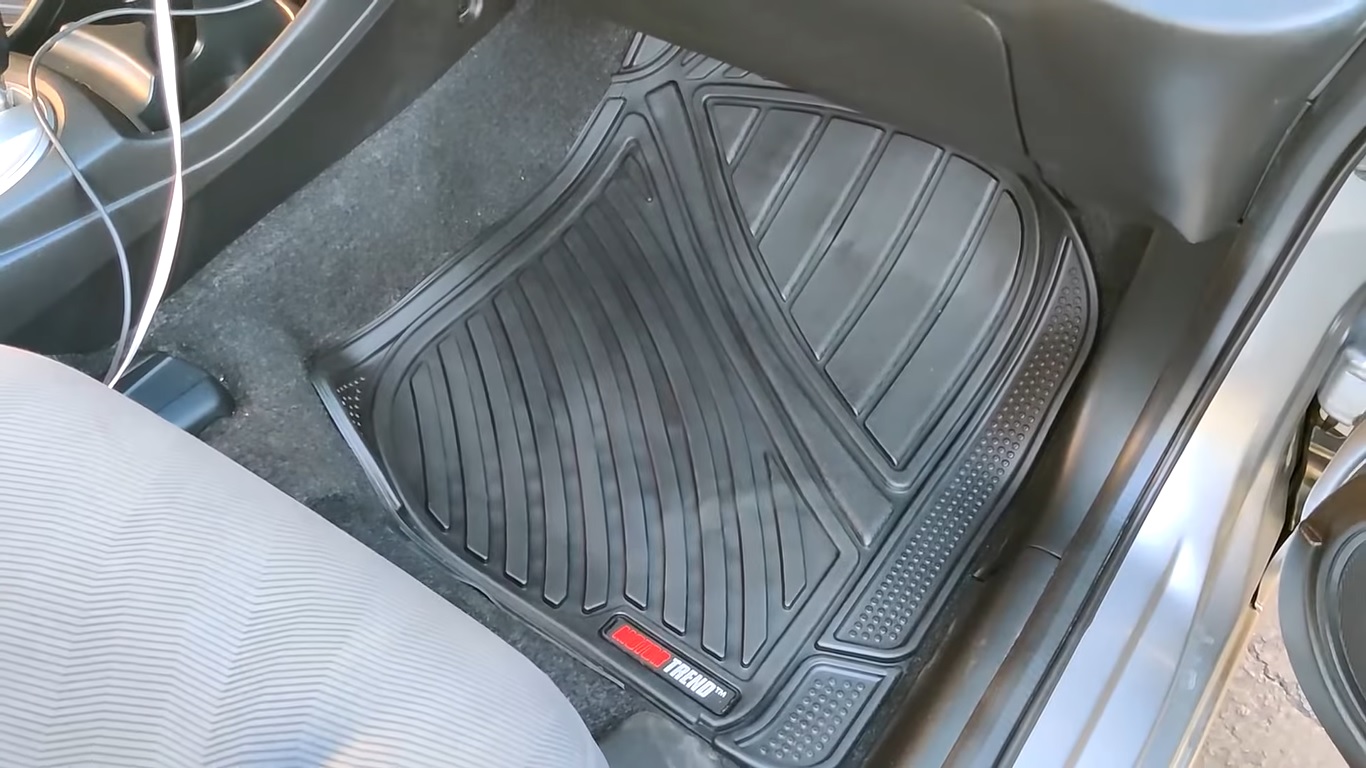 Motor Trend is one of the finest floor mat manufacturers I have seen. Not only does the brand offer top-notch quality material, but also solid performance. And the best part is that the mats come at a surprisingly low price.
Features and Benefits
Material And Design: Let's talk about the material first. This floor mat set is made with durable rubber material. They are reliable, comfortable to keep your feet on, and easy to clean. The ridged design and color will also enhance your truck's interior.
Fitment: The mat set is compatible with various trucks, cars, and SUVs. Despite its assurance to fit a RAM 1500, I was still a bit worried about the fitment. The set is for front and back rows, which cover most of the floor. And the universal size is good enough for my truck.
Performance And Convenience: What I also liked about this mat set is that its design and material kept my truck floor clean and good as new. The ridged design and raised edges keep all the spills and dirt on the mat. If it seems dirty to you, you can just take it out and give it a wash with water.
Installment: If you seem to have an issue with its size, you can use scissors to trim it along the contour lines. Then place the mat where it goes, and it will be fine. Thanks to its rubber nibs on the back and ergonomic design, it does not slide or slip off.
Affordability: As I mentioned in the beginning, the mats from Motor Trend come at a very low price. That is one of the many reasons I picked the mat sets because compared to the price, the performance turned out to be very satisfying.
Pros
Comes at a very low price
Versatile design and color options
Ridged surface pattern and rubber material keep dirt and spills from ruining the truck floor
Universal size but can be trimmed and adjusted
Easy to clean
The set is suitable for front and back-row floor
Cons
Cutting and fitting the mats can be a hassle for some users.
---
2. Husky Liners 99001 Weatherbeater Front & 2nd Seat Floor Liners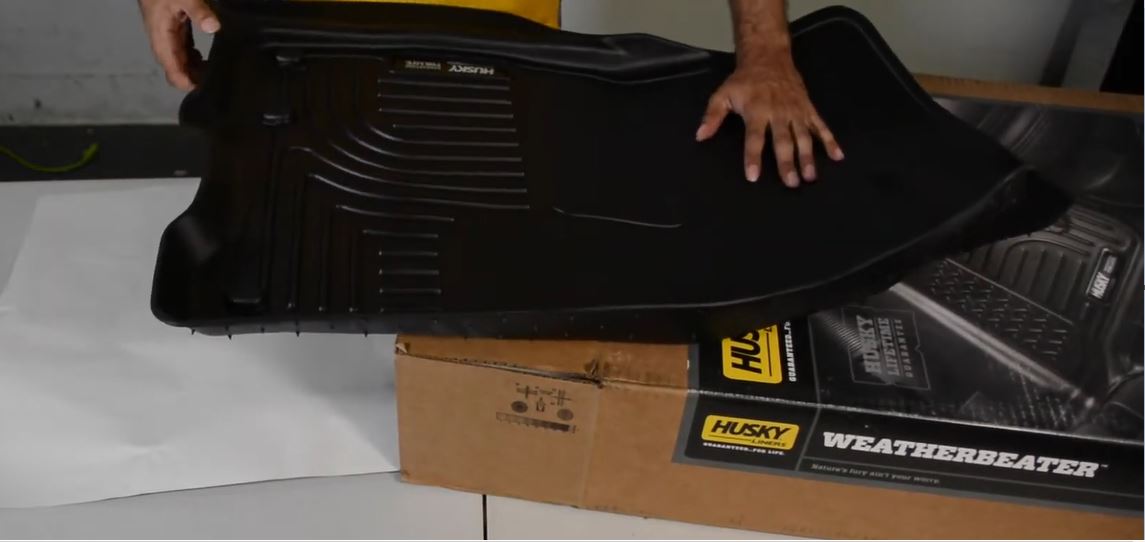 When it comes to floor mats and liners for vehicles, Husky is one of the leading and popular brands. So it is only natural I would introduce you to it after the most affordable one above. And this floor mat set from Husky is solid, reliable, and comes at a reasonable price.
Features and Benefits
All-Season Protective Material: I have always noticed how Husky promises all-weather protection via its floor mats. Well, it turns out to be very true. I have walked inside my truck with mud, water, snow, and whatnot every time the weather has been rough. And none of that affected the mats or damaged anything outside the mat surface.
Maximum Protection Against Spill: And talking about protection, those of us who are quite clumsy, spilling things will not spread outside the mat surface because its flexible and raised surface design will catch them all.
Versatile And Custom Fit: What pulled me toward these floor liners is their versatile appearance. And as for its fitment, the company will help you with the vehicle floor measurement and cut the mats precisely according to your vehicle model.
Cost And Warranty: Husky Liners products do not come at a low cost. However, the price is quite reasonable, judging by the material, safety, and all. And what makes it worth purchasing from the brand is that the company offers a lifetime warranty for its products.
Pros
Stylish-looking floor liners
The company offers to help with customizing the liners according to vehicle models.
Comes at a reasonable price
The design does not let the dirt and spillage reach outside the liners
Comes with a lifetime warranty
Stays secure to the floor
Cons
Compatible only with Dodge RAM 1500 classic body style, not the new one.
Does not fit quad cab or a mega cab, except a crew cab.
---
3. OEDRO Floor Mats for Dodge RAM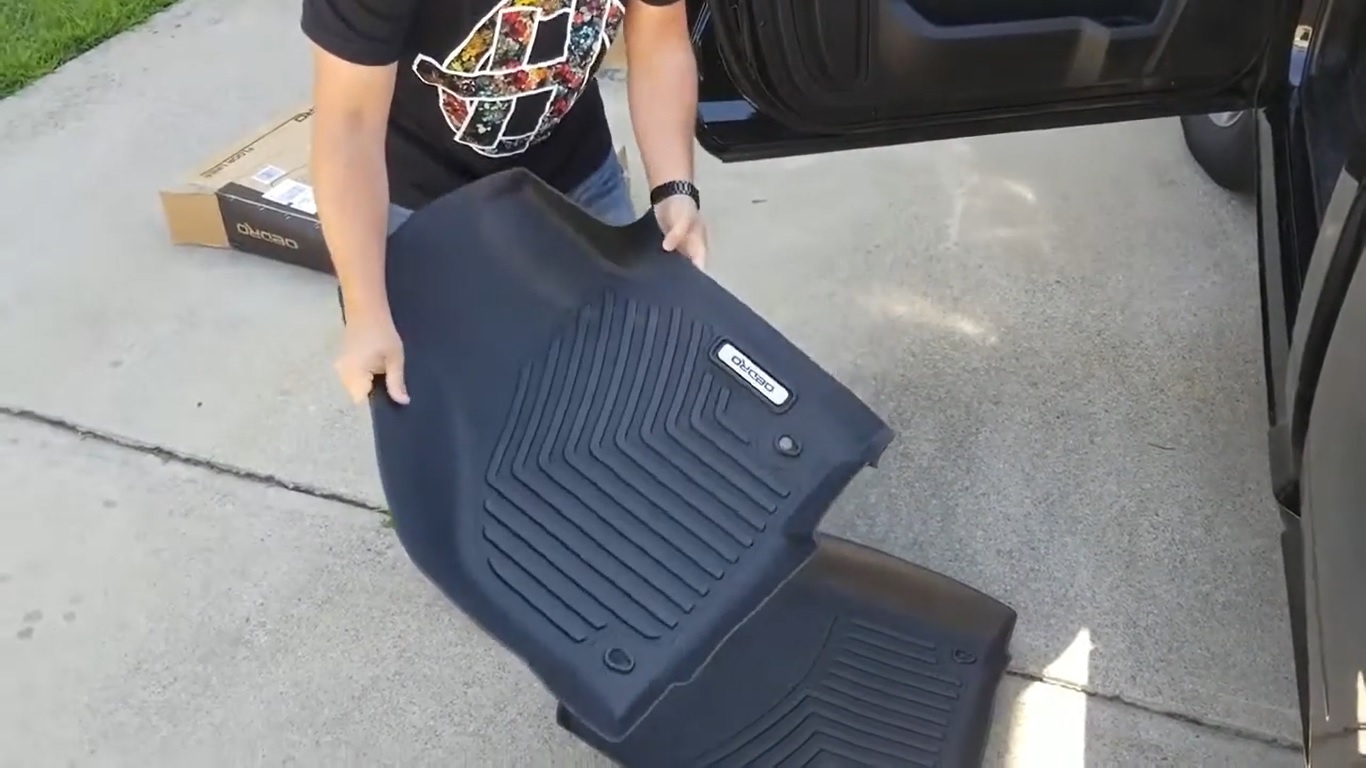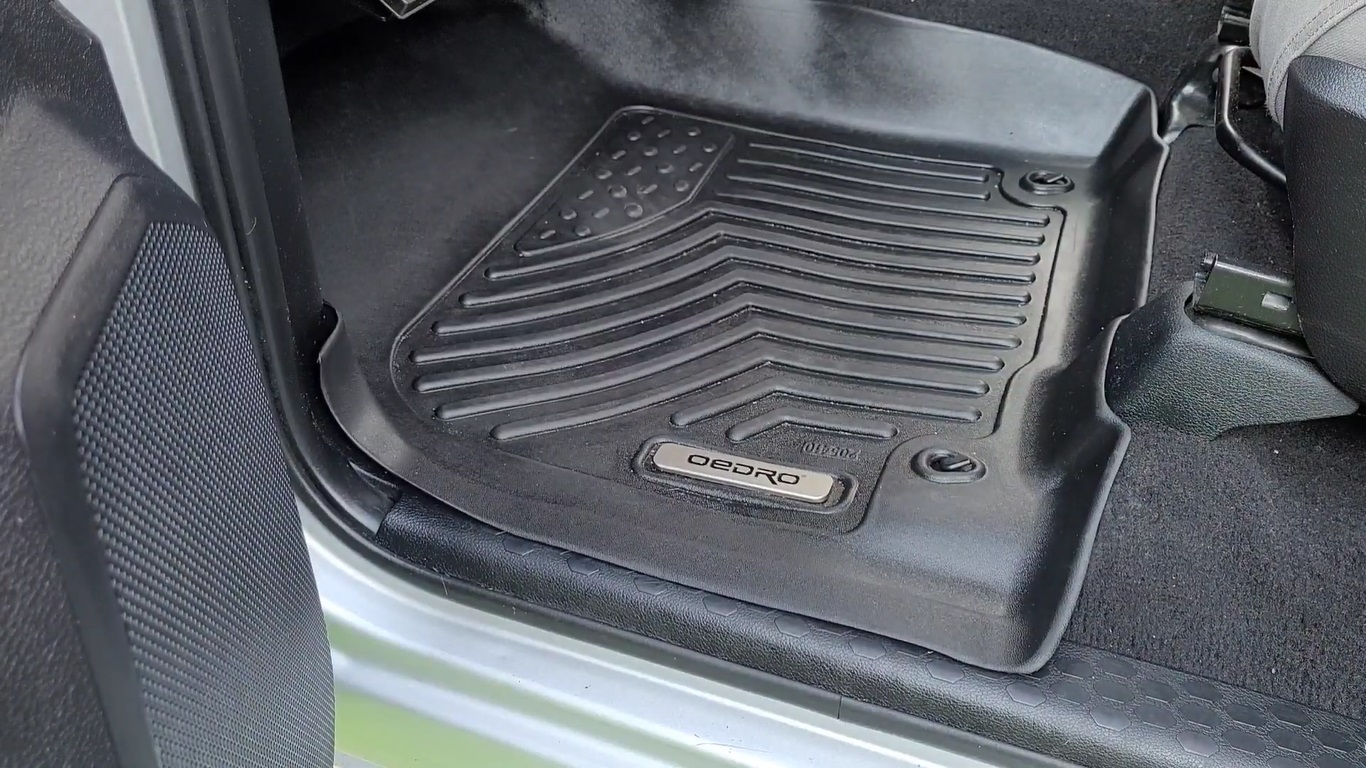 If you would like to check something similar to the Husky Liner products, you should check out this one. I found lots of similarities between the 2 brands. See if you can figure them out too.
Features and Benefits
Material: The mat set is made of thermoplastic elastomer. And when it comes to choosing the best floor mats for RAM 1500, this material is known to be among the most popular and reliable ones. Though the manufacturer claims it resists temperature 300% more than PVC, I still haven't checked out the part.
Compatibility/Fitment: This mat set is suitable for various RAM 1500 models. It will fit the front and back row of your 2019-2023 Dodge RAM 1500 and 2012-2018 RAM 1500/2500/3500 classic crew cab models. Unfortunately, like the Husky liners, they are not for the new body and mega or quad cabs. Also, the mats are not compatible with vinyl flooring.
Weather And Environment Safe: The mats are made to withstand any weather condition, from rain to ice. And as always, I have experienced pretty much everything from rough weather shoes and clothes to food spills. However, I would say it did not cover and protect as well as the previous two. But the reason you could have them is because they are odorless and safe for the environment.
Convenience: So, does it clean well? Yes, it does. All I had to do was wipe the mats off, and they will be good as new. But make sure to take them out of the vehicle for cleaning. And the mats are foldable. So if you think you don't need them for some time, you can easily store them away without taking up much space.
Warranty: The company offers a limited lifetime warranty. But that applies to shipping and certain types of damages or manufacturer defects. And you must discuss your vehicle model in detail prior to purchasing them to know the accurate size.
Pros
Protective design for preventing spillage from reaching the floor
Easy to set up and clean
Environment-friendly and odorless
Fits most RAM 1500 classic body crew cabs
Cons
The mats are comparatively thinner
Not compatible with quad or new body models
---
4. MAXLINER Floor Mats 2 Row Liner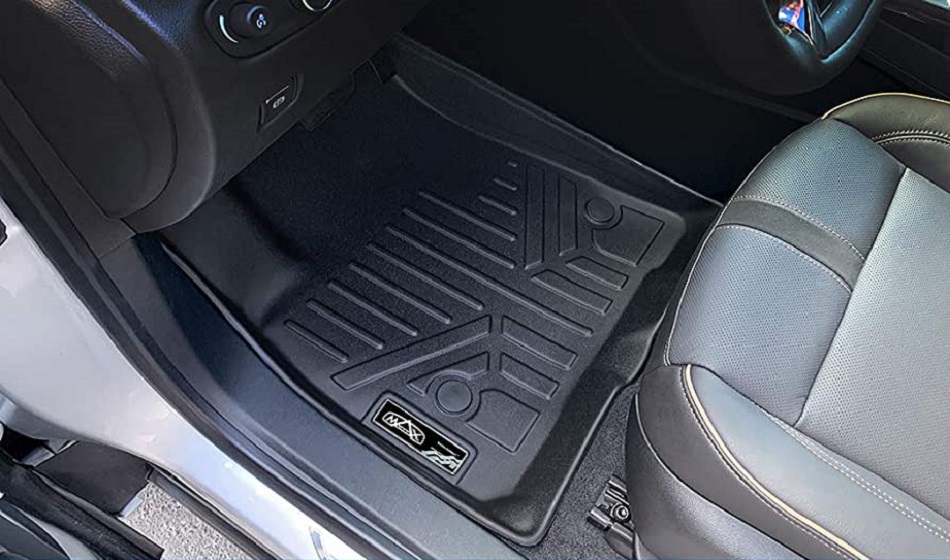 I know it seems unfair to test and review crew cab models only. So if you are looking for something with your RAM 1500 quad cab, here is a suitable and affordable option. It is a custom-fit floor mat set with eco-friendly material.
Features and Benefits
Material: This Maxliner floor mat is made with low-density vinyl instead of rubber or thermoplastic elastomer. But vinyl is also a good and reliable material for manufacturing vehicle floor mats. And compared to the high price they come with, this set price is comparatively reasonable.
Vehicle Compatibility: As I said, if you own a RAM 1500 quad cab, you can jump on the wagon and get these floor mats. However, it is only for quad cabs. There is no option for fitting them in crew cabs. But then, how did I test this? Well, let's say I have a thing for having and testing various models of cars.
Eco-Friendly: If you need one more reason to like this floor mat set, then let me assure you that they are odorless. And they are made with recyclable materials, such as polyethylene blend and plastic rubber. That means they are eco-friendly enough.
Convenience: If you want to clean the mats while inside your cab, just use fabric to wipe them clean. The best way to give the mats a good wash is to use a water hose. And since it has high-quality weather protective material, you can drive around with your vehicle on any road under any weather condition.
Pros
Excellent quality and eco-friendly materials
Easy fit and versatile appearance
Easy to clean and wipe
Offers protection against all weather conditions
Comes at a good price
Cons
Fits RAM 1500 quad cabs only
The holes that secure the mats to the floor are not large enough
Not made for vinyl floorings
---
5. 3D MAXpider All-Weather Floor Mats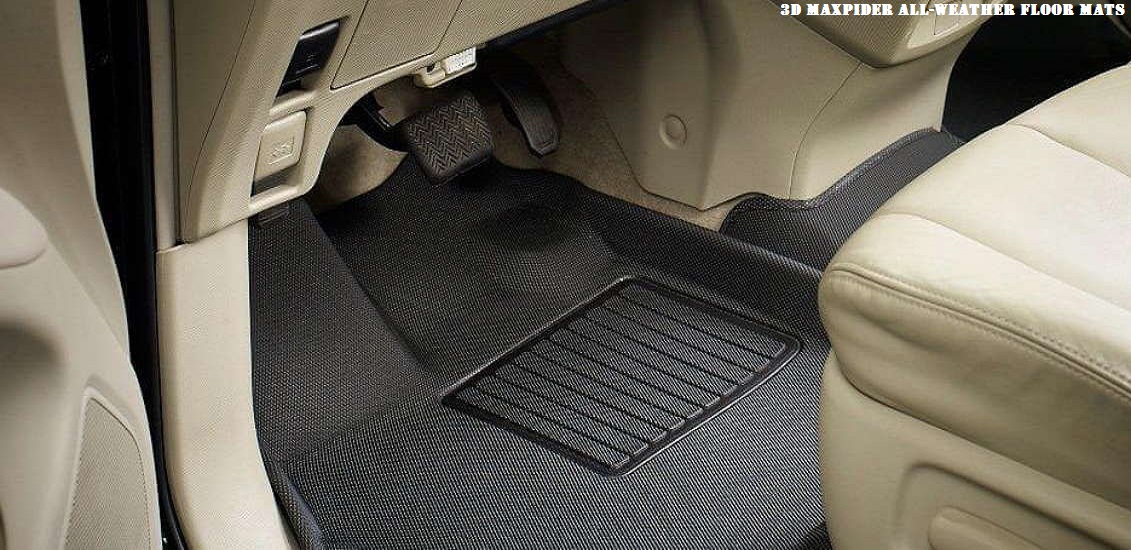 The last one in today's list is the 3D MAXpider All-Weather Floor Mats for the front and back row. Though most people would not often glance toward this brand and reach for reputed brands instead, most 3D MAXpider users have positive experiences regarding the floor mat set's solid performance, easy cleanup, and affordable cost.
Features and Benefits
Multi-Layer Construction: To make the mats more reliable and durable, MAXpider gave them multiple layers. The top layer is made of thermoplastic rubber to make it softer and more resistant to weather. The second layer contains XPE comfort foam to prevent noise and vibration and anti-skid backing to ensure the mat remains firm on the floor.
Fitment: Another good thing about using a 3D MAXpider mat is that the manufacturer and dealer ensure each set perfectly fits the vehicle they are purchased for. For that, they use high-tech laser scanning for better precision. However, my RAM 1500 had some uncovered areas.
Retention System Installation: Another aspect that I liked about this is its retention clip installation system. This type of mat stays put and does not slip off.
Convenience: You will also notice that every mat in this set has raised edges for better spill protection. No matter what you throw into it, all will remain on the mat. That makes cleaning the mats more convenient. You can use hose wash or just wipe off the dirt and spills with a fabric.
Related Post: Top-Rated Portable Winter Car Garage Review
Pros
Raised edge mats for more protection
The 3-layer design makes it more convenient, robust, and reliable
Comes at an affordable rate
Easy to install
The retention installation system keeps the mats secure in their place
Cons
Might not cover all floor areas properly
---
New Truck Floor Mats Unboxing Video Review
---
Different Types of Floor Mats
Based on the mat's material, build, and a few more features and qualities, car floor mats have been classified into several types, such as rubber mats, fabric mats, vinyl mats, curly mats, and 3D mats.
Rubber Mats: Rubber mats are the most commonly used floor mats because they are long-lasting. They do not collect dirt and dust, are slippery, and can be easily cleaned.
Fabric Mats: Though the main material of the mat is fabric, they do come with rubber backs, which prevent them from slipping. And though they are easy to clean and cheap, the fabric mats can lose color and become shaggy over time.
Vinyl Mats: This type of mat is made with thick vinyl. And sometimes more durable than rubber mats. However, such mats are quite expensive.
Curly Mats: Curly mats are also known as nomad mats. They are very expensive, but the material easily absorbs dirt, water, and other spillages.
3D Mats: 3D floor mats for vehicles are made of polymer and are the most expensive of all types. However, these mats help keep your truck floor cleaner and also enhance the interior's look. But the problem is, because of the material, such mats neither absorb nor trap any dirt or water.
---
Buying Guide for the Best Floor Mats For RAM 1500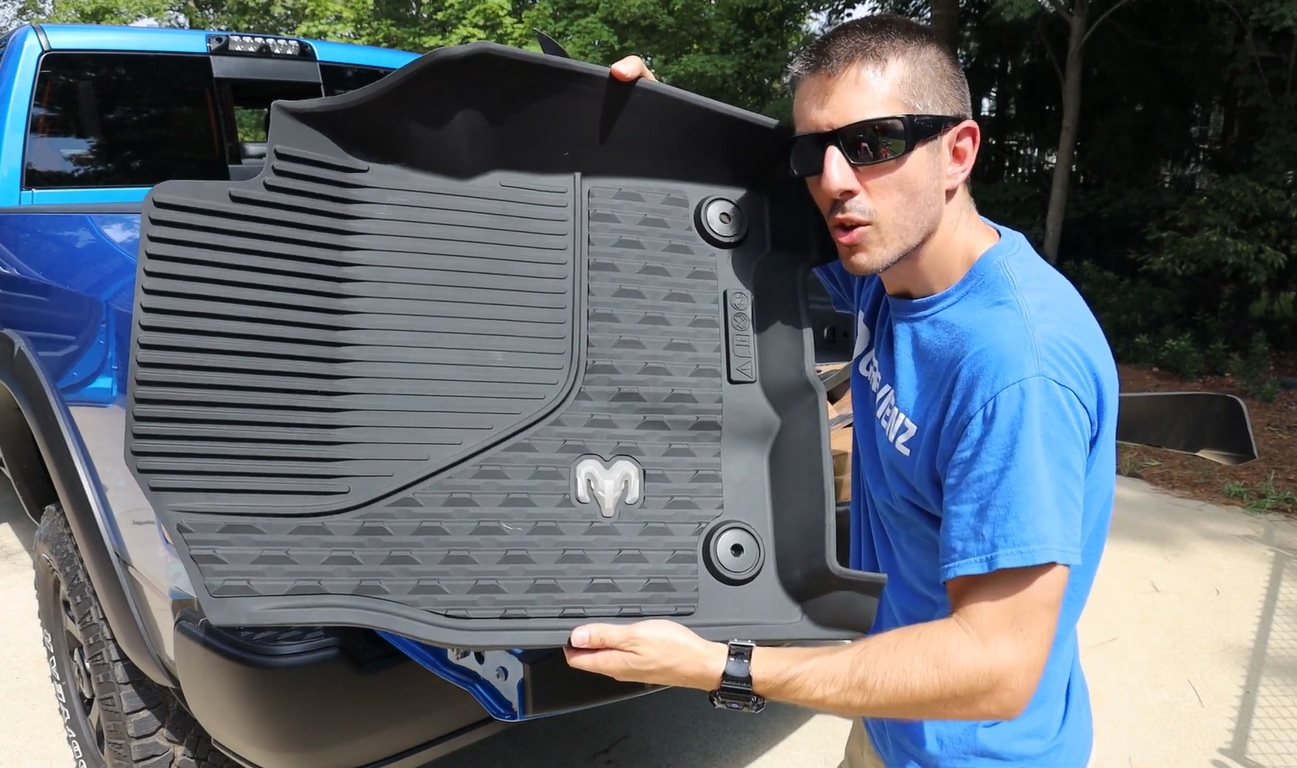 In my review, I have already discussed some of the best truck floor mats you can find in the market for your Dodge RAM 1500. But it is still necessary to know how you can recognize the best of all mats for your vehicle and pick from any brand. So here are the things one must consider when buying a top-quality floor mat.
Material
As you read just a moment ago, you have various material options for choosing floor mats for your RAM 1500. And each type of material offers various levels of effectiveness and durability. So it would be best if you chose according to the material that seems convenient to you.
Color And Appearance
Just because it is a floor mat for your truck does not mean its appearance is meaningless. But the good thing is most truck floor mats offer a versatile look and have color options. So you can choose something that seems classy enough to you and will increase your truck's overall interior appearance.
Fitment
You can find truck floor mats according to your vehicle models. As for the RAM 1500, there are plenty of models and options to fit the truck floor easily. And then there are universal sizes that fit most vehicle floors. You can also get adjustable floor mats that you can cut and resize according to your vehicle's floor length.
Mat Thickness
Choosing thicker floor mats is useful if you prefer something durable. Besides, thicker mats, such as rubber ones, are more resistant to tear, wear, or any other damage. That is why it is necessary to pay attention to the mat's thickness.
Ease Of Maintenance/Cleanliness
No matter what type of floor mat you purchase, it will need cleaning from time to time. While some may keep dirt and dust or water loose on them, others can have the ability to absorb everything. So you must choose a set of mats that are easy to clean and maintain.
---
Floor Mats Vs. Floor Liners: Which One Should I Buy?
When browsing for a truck floor mat, you may come across floor liners. They look the same, which makes it confusing for new buyers to distinguish the two types of floor-covering items.
But what are their differences? And which is better for your Dodge RAM 1500 floor?
Floor Mats
The floor offers excellent protection against dirt and various weather conditions. On top of that, they are durable because of their top-notch materials. On top of that, you can easily set them up on your existing floor or its carpet without altering anything. On the downside, truck floor mats do not often allow you the freedom to get customized ones.
Floor Liners
Floor liners are an excellent alternative to floor mats and also just as good as mats. They are reliable, weather-proof, made with durable material, and more. One of the cool things about liners is that you can easily custom-make them based on your truck model. On the downside, since they cover the entire vehicle floor, the manufacturer or dealer has to measure or know the accurate measurement of the floor to get the right size.
Verdict: Which One is Better?
As you can see, both truck floor mats and liners are similar regarding reliability, convenience, and performance. But what separates them is the cost, ease of installation, and maintenance hassle. However, from my experience, I believe floor mats are better than liners.
---
FAQs About RAM Floor Mats
Do I need floor mats for my vinyl floor truck?
A vinyl floor is pretty convenient when it comes to having a good vehicle floor material or cover. But adding a mat can make things more convenient as it will keep the floor cleaner, and cleaning a mat is far easier.
What is the best way to clean truck floor mats?
To clean a truck floor mat, all you have to do is to take it out of the truck, and use a high-pressure hose setting to spray water to clean it up. However, depending on the material, you may also need to hand wash them using soapy water and a sponge or vacuum the dirt out.
Should I get universal or custom mats?
It entirely depends on your preference and what you expect from your RAM floor mats. Custom mats may offer a good fit, but they are comparatively more expensive. On the other hand, universal mats can leave vacant areas and look out of place.
How can I secure my truck floor mats?
Some mats require cutting prior to installation to fit the floor areas, while others require tapping, or the vehicle may have anchors for installing mats. So make sure you know how to install it or take the vehicle and mat to a professional.
How long do Car floor mats last?
The durability of a RAM 1500 mat depends entirely on the mat's material, how frequently you drive your truck, and how well-maintained you are. Nevertheless, a good-quality truck floor mat should last around 5-6 years or even more.
---
Truck Floor Mats Installation Guide
---
Conclusion
Having floor mats for any vehicle is important for several reasons. But when it comes to getting them for a Dodge RAM 1500, the options are endless. And though it took me more than a year to check them all for accurate testing, I'm satisfied with the result I got.
So if you are looking for the best floor mats for RAM 1500, the above-mentioned reviews and buying guide will help you. At least, I hope they will.