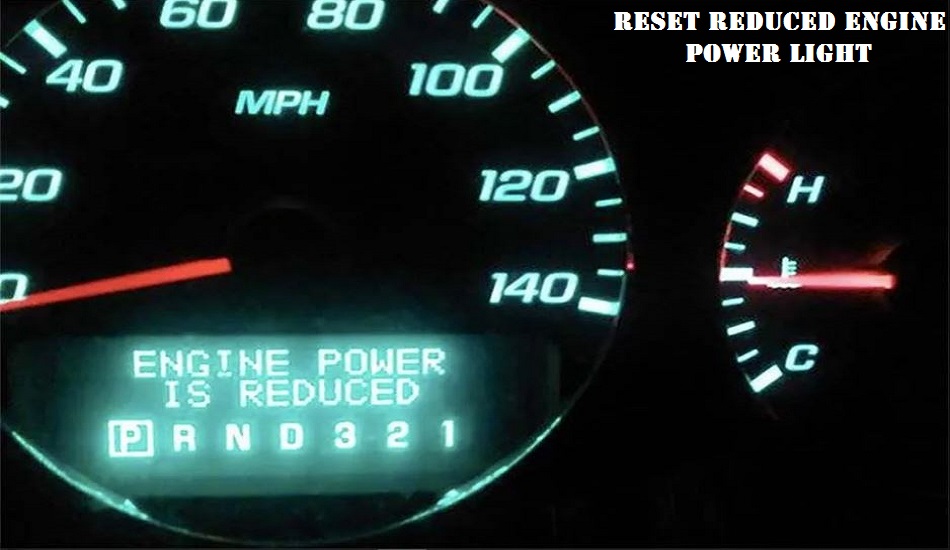 If you're thinking of pushing a button and resetting the reduced engine power light, it's impossible. There are no shortcuts to it as you have to dig deep to fix the engine power light issue. 
There are times when you'll see different warning lights popping up, so you do the maintenance. However, despite working on that particular problem, the warning light remains!
Sometimes, there are problems within ECU; thus, no matter what you do, the light remains. Don't worry, as we're here to provide you with all the information about how to reset reduced engine power lights.
What does "Reduced Engine Power" Mean?
Reduced Engine Power means automatic engine power limitation, which also indicates throttle power limitation. It limits the engine to produce power because it thinks the engine may have problems.
The performance of the vehicle will be intentionally reduced, more specifically, the engine performance. 
The signal comes from PCM, a powertrain control module that is your vehicle's computer. Whenever the computer detects a system failure, it automatically triggers reduced power mode.
It's something that can happen very often, and you can not avoid it as a vehicle is used not only regularly but also roughly. 
Is It Safe to Drive with Reduced Engine Power?
Yes, it's safe to drive with reduced engine power mode as it doesn't pose any kind of threat to the driver. Though the sole reason for this problem is any kind of system failure, it'll make the vehicle slow. Moreover, you'll find the vehicle a little jerky and may get bad mileage. 
Sometimes, the vehicle will not be pleasant to drive at all, so repairing the issue is the best solution. There are times when the driver gets scared by just getting the light but no worries as you can easily drive it regularly.
The thing is, experts do recommend checking the problem immediately and finding a proper solution because there are no early warnings for accidents, and who knows what happens on the road? 
What Causes Reduced Engine Power Light?
Many reasons can cause reduced engine power light, including both external and internal problems. Some may have connections with the PCM or ECU, which are key internals for the vehicle. 
Well, here are the reasons that cause reduced engine power light:
There can be times when the fuel pressure becomes low due to improper tuning of the engine. Sometimes, fuel pressure gets inadequate because of bad fuel and dirt in the fuel tank. Usually, these are some common facts that come in case of inadequate fuel pressure. 
Moreover, Inadequate fuel pressure can also happen due to the ECU settings, but these situations are very rare. But two reasons are most common: the faulty fuel pump and restricted fuel filter or faulty fuel filter. You have to take service from a professional to fix the issues that cause fuel pressure.
Restricted exhaust is one of the key reasons that make your engine go bad. If you think that the vehicle may have this issue, immediately do a checkup.
There are a lot of service centers for vehicles that fix this issue and it is not too hard to fix. But it's a major issue that can ruin the entire engine and the performance or quality of the vehicle.
You have to fix this as it can also create rust problems inside and outside of the exhaust system. One of the main reasons for restricted exhaust is dirt and bad fuel that makes heavy air that clots or clogs the channels of the exhaust system.
It can also happen if the sensor is bad, as there are times when the problem arises due to a faulty sensor. These sensors need updating, but we don't keep them updated as we eventually forget that it needs maintenance. 
If you want to point out the sensor that creates this problem, that can be the airflow sensor. Imbalance airflow can create a lot of issues, including restricted exhaust also. You can face problems due to the wrong mixture of air and fuel. 
Related Post: Remote Start Not Working and Check Engine Light On: Steps to Take
What are the Symptoms of the Reduced Engine Power Light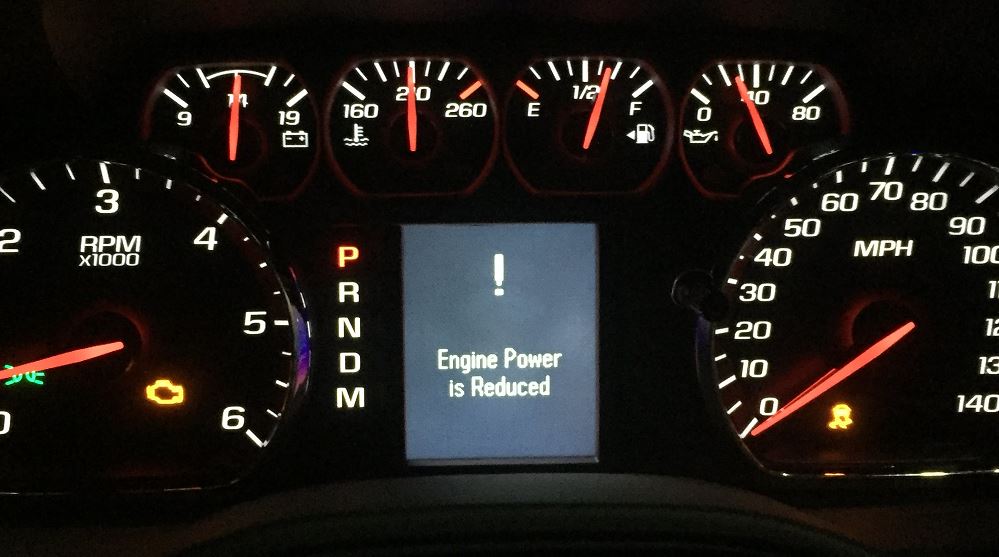 Symptoms of the reduced engine power light may vary because there are lots of reasons that cause this problem. However, you can point out the issues as there is a very high chance that your vehicle needs a maintenance checkup.
You can face the symptoms such as:
Jerky ride and jerky throttle can be a symptom.
Throttle not responding properly can be a symptom.
Your vehicle can make a noise that you have never heard.
Loud exhaust can also be a symptom. 
It happens whenever the flow of fuel gets reduced or the airflow to the engine. Whenever you feel these symptoms, it's obligatory to do maintenance.
Related Post: How To Clear Service 4wd Light? [Step-By-Step Guidelines]
How Much Does It Cost to Fix Reduced Engine Power?
The cost depends on what situation the vehicle is in. Mostly it happens due to various problems that occur, however, you can fix it with a small portion of the money. The amount depends on the severity of the particular issue. 
Don't worry about it, because the repair or maintenance costs around 5$ to 2000$ depending on the person you hired and the problem you have. It's best to consult with a garage or your showroom so that you know what to do and where to go.
Service centers are best suitable for these jobs, and they're reliable too. It may cost a little more than the average amount you could get from a local shop, but that's worth it.
Can I fix the Reduced Engine Power Issues Myself?
Fixing reduced engine power issues isn't a simple task, as it takes expertise to work on engines. Especially if you have a V-type engine, it's best to see a mechanic at a car repair shop. The engine comes with complicated parts that require experience to work.
Moreover, the engine has parts that quirk that normal people don't understand. So, it's wise to let it be and visit a good car repair shop.
You'll need a special computer to run the diagnosis on the vehicle to learn about the condition. The ECU and PCM unit will send the necessary information for you to figure out what is the main problem.
Usually, normal people like you and us don't have the proper computer and equipment to solve or figure out this issue. So, it is best to let a professional handle all the computer work and also the mechanical parts.
How to Reset Reduced Engine Power Light?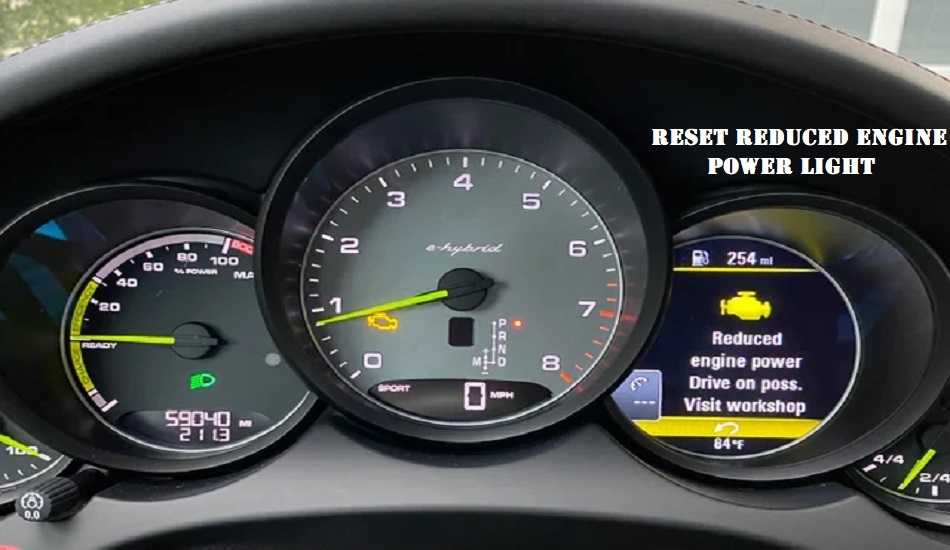 There's no specific reason why the reduced engine power light may have appeared, so resetting it's challenging work. You have to take the vehicle to a car repair shop, and they'll provide all the necessary work. 
Those may include:
They might change the air filter,
They might change the oil filter,
They may work on the exhaust system,
The engine may have a problem, so they can also check the engine,
Throttle controllers may have problems, so they might work on that.
There are various places they may work but it all depends on the reports from ECU and PCM.
How to Bypass Reduced Engine Power Light?
There are ways that you can follow to bypass reduced engine power light. But to do that bypass, you have to know about it thoroughly. If you're unaware of the tasks, consult with a mechanic to complete these tasks for you.
Check the Catalytic Converter.
Try to clean the air filter (You can do it yourself),
If you know how to check ECU, then you can use a computer to bypass it,
You can check the vehicle sensors (All the sensors)
Look for exhaust leaks, and repair them,
Give a thorough check for the wiring and cables of your vehicle.
FAQs About Reduced Engine Power Light
Is it possible to rest the reduced engine power light?
Yes, it's possible, but you have to follow certain procedures to reset the reduced engine power light. The best way to do the work is to let the professionals of car repair shops handle it.
Is it safe to drive with reduced engine power light?
Yes, it's safe to drive while the warning light is on. However, you may not have the perfect driving experience. There is always a reason for the light, and that's why you may find a few minor problems.
Can I solve this issue at home?
Yes, it's possible, only if you are an expert on handling these things because you may never know what can happen if you do something wrong.
---
How To Bypass Reduced Engine Power – Expert Solution
---
Final Thoughts
If you see a reduced engine power light, then all you have to do is stay calm and visit a car repair shop. There are lots of reasons why you should not work on it by yourself, as you can do anything by mistake. 
There are times when the ECU or PCM can have issues, and that might cause the reduced engine power light. You can follow the instructions we have discussed to see if the problem goes away.
But don't stress too much about how to reset the reduced engine power light as it's not deadly.