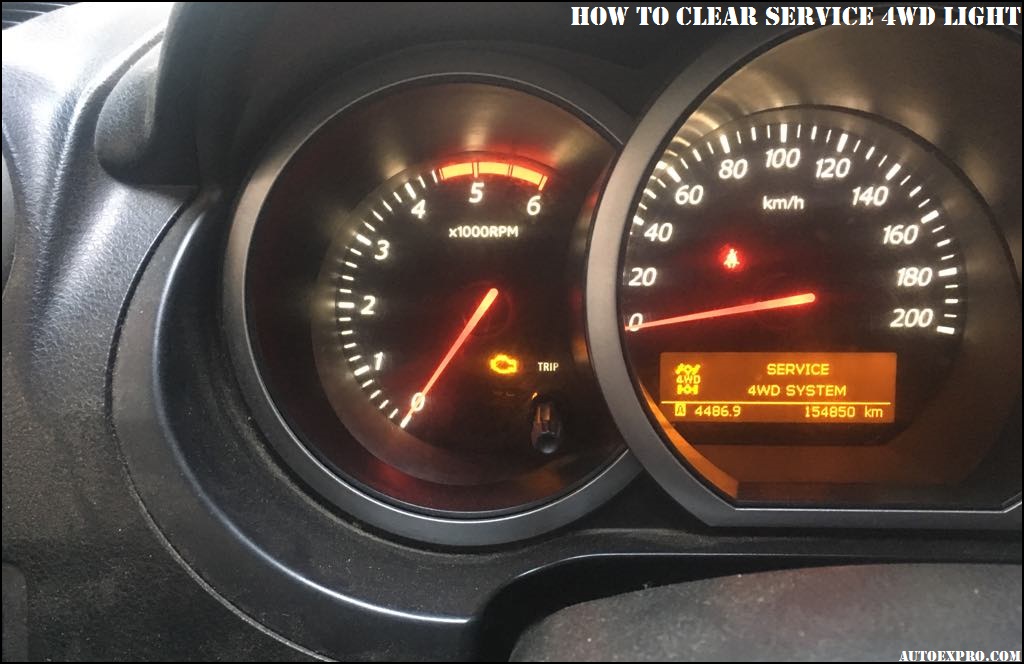 If you didn't know already, 4wd is an abbreviation for four-wheel drive. It's a system to distribute engine power evenly between four wheels in trucks. Service 4wd light is an indicator that your truck needs some attention.
Many people have struggled with this sign on their dashboard and tried many things to get rid of it. There is a surprisingly simple solution to this issue.
In this article, I'll walk you through how to clear service 4wd light. It's identical for almost all vehicles, so you can get it done without any issues. So, let's get to it.
How To Clear Service 4wd Light? – Step-by-Step Guide
You are not alone if you are also suffering from an annoying service 4WD light sign. The good news is, that I've created a step-by-step guideline for you. Hopefully, you'll be able to clear the service 4WD light in no time.
Step 1: Inspect The Light
You need to make sure that there's something to fix. That means ensuring that the service 4wd light is displayed. Inspect your vehicle's dashboard and look for a light saying 'service 4wd' that keeps blinking.
There are other issues you can experience with this light. It may not be blinking at all, or it may be red in color. Once you're sure that it needs attention, jump to the next step.
Step 2: Remove the Dash Bezel And Knee Bolster
The second step is pretty straightforward. First, you need to remove the dash bezel. It should be pretty straightforward. It will snap out without any hassles.
On the contrary, removing the knee bolster will require some unscrewing. There are two screws at the bottom that you'll need to remove.
Step 3: Pull Switch Assembly
Next, you will have to pull on the switch assembly. Remember to pull evenly from all sides, or there's a possibility of breaking it. This step will allow you to move to the next one, which is removing the wires from the Transfer Case Control Module.
Step 4: Unplug the Transfer Case Control Module
You will find the transfer case control module behind the switch assembly. You will notice two wires leading up to a compact grey box. You will need to unplug these wires and start the vehicle to check if the service 4wd light is still there. If it's not fixed, move on to the next step.
Most of the time, the service 4wd light is due to some error in the TCCM. Don't forget to scan the error codes if you have a scanner. If you fail to solve the issue, you can contact customer service with your code. It will surely facilitate the process of solving the issue.
Step 5: Remove The Negative Cable On The Battery
In case undoing the wires from the TCCM didn't work, there's something else you can try. Find your vehicle's battery. Use the instruction manual if you are having difficulties locating it.
Now, undo the negative wire from the battery. Give the truck some time to cool down. Keep the negative wire unattached for an hour or so. Then, connect it again and try turning on the engine. This should clear the 4WD service light.
This helps reset the service 4WD light most of the time. If this step doesn't help either, you will have to consult someone with professional knowledge. As I have mentioned before, the issues with this light can vary. There are multiple approaches to this, and visiting a garage will put an end to all these.
DIY 4wd System Check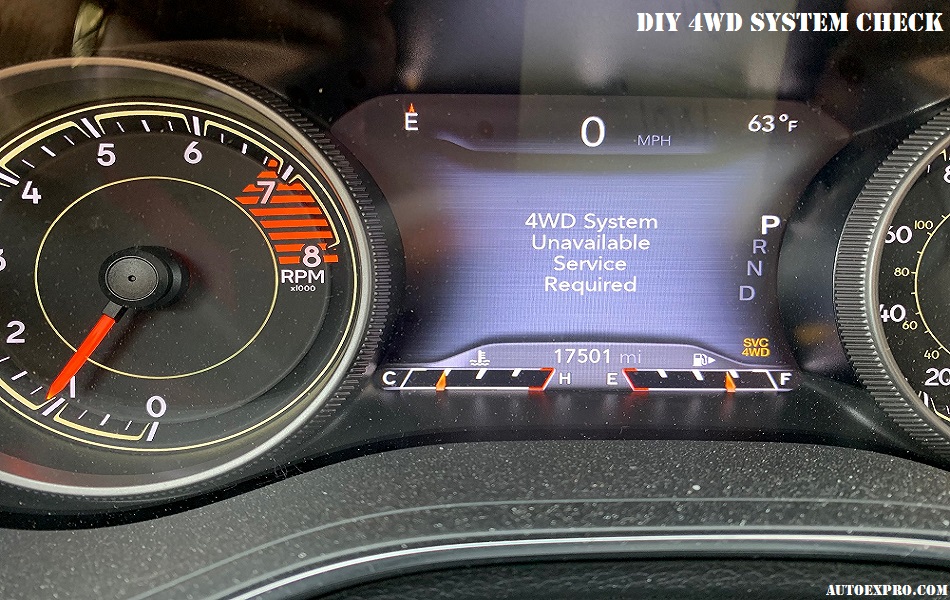 You can easily check whether the 4WD system is working properly or not. Sometimes, even though the sounds and signs are okay, there may not be any power in the front wheels at all. So, to avoid such situations, check the 4-wheel drive on your own by following some simple steps.
Use a parking lot for this process. It's safer that way.
Keep your vehicle neutral and then engage the 4WD. You will hear a noise when the system engages.
Start moving forward till you've reached 10 feet from the initial position. This step allows the front hubs to lock and engage.
Now, turn the wheels completely towards one side. Then, start driving forward. You should feel resistance toward smooth driving.
If your vehicle doesn't resist rolling forward smoothly, your 4WD system may not be working.
Related Post: Should I Balance My Tires Before An Alignment?
Things To Remember
Often the service 4wd light does not indicate that your vehicle requires routine maintenance. Rather, the light indicates that something is wrong with the service 4WD system. So, you should check it out and get it fixed.
The service 4WD light doesn't always mean the same thing. So, the solution won't be the same for all situations either. The best thing to do is to scan the Transfer Case Control Module for specific codes and apply specific fixes.
If you can't figure out how to clear service 4WD light issues, you should always consult a professional mechanic. It's better to ensure that your truck is safe to drive with that light on.
Not fixing the small issues of your vehicle in the initial stages can lead to more expensive damages. So, don't neglect anything, and service your vehicle once in a while.
The service 4WD light may not mean the same thing for all vehicles. So, if the method I described doesn't work, you may have to try a vehicle-specific approach.
Common 4WD Problem Symptoms
Reduced grip in mud or snow.
Rattling noises when engaging 4WD.
Service 4WD light is showing.
Cannot disengage 4WD.
Excessive wear of the front tire (4WD won't disengage)
Excessive fuel consumption (4WD won't disengage)
Lack of power (4WD won't disengage)
Related Post: Remote Start Not Working and Check Engine Light On: Steps to Take
FAQ's About Service 4wd Light
How much does servicing 4WD cost?
The cost entirely depends on what vehicle you have. The procedure and the labor cost will be determined by the type of four-wheeler you own. Ask a local professional to learn more about the cost.
How to diagnose service 4wd light problem?
Your truck's TCCM (Transfer Case Control Module) will have the codes reserved. If you want to diagnose particular problems, you will have to use a scanner to scan the code and apply specific fixes.
Final Words
If following the procedure didn't clear the service 4wd light, I highly recommend visiting a professional. Some issues are more complex and can only be solved by experienced mechanics. It may cost you a few bucks but will surely save you a large amount of expense in the future.
So, if you can't figure out how to clear service 4wd light, go through the process I mentioned. If the light remains, your vehicle may require some attention from a mechanic.