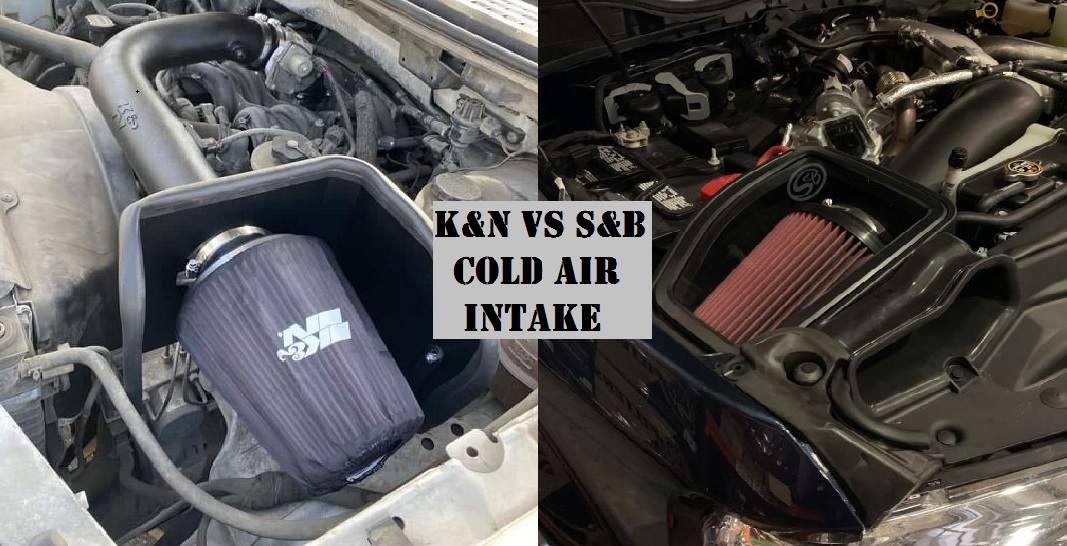 Having the best aftermarket cold air intake for the vehicle is one of the primary modifications most vehicle owners make. However, finding the best one is not always easy because of the huge competition among the top brands. People often become confused about them.
Two of the most common brands of cold air intakes are S&B and K&N. Both offer several variations of CAIs that you can't miss. However, as you have to pick one, you might be confused as both claim their filters to perform great.
The good thing is- you can select one according to your choice after thorough research. User reviews, expert suggestions, forum discussions, etc., can help you to select the best one among these two.
And the better news is- I've done all the research and writing this K&N vs S&B cold air intake based on my findings so that you don't have to perform the tiring research. If you want to know what the best companion for you can be, checking this article will be helpful.
K&N Cold Air Intake is a popular aftermarket upgrade for car enthusiasts who want to boost the performance of their vehicle. It is an intake system that replaces the factory air intake with a high-flow air filter and a mandrel-bent intake tube.
Overview of K&N Cold Air Intake System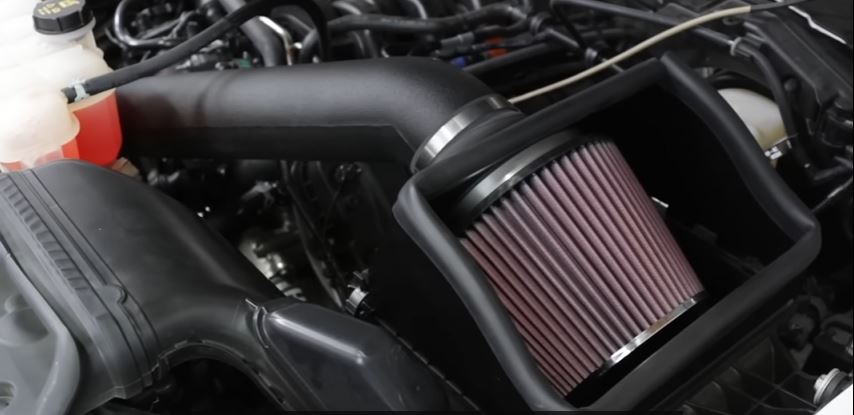 The K&N Cold Air Intake works by providing a steady flow of cool air to the engine, which can increase horsepower, acceleration, and fuel efficiency. The high-flow air filter allows more air to enter the engine, while the mandrel-bent intake tube eliminates restrictions and allows air to flow smoothly.
One of the main benefits of the K&N CAI is that it can improve the sound of the engine, providing a deep, throaty roar that many car enthusiasts crave. Additionally, the Air Intake system is designed to be reusable, which can save car owners money in the long run.
Overview of S&B Cold Air Intake System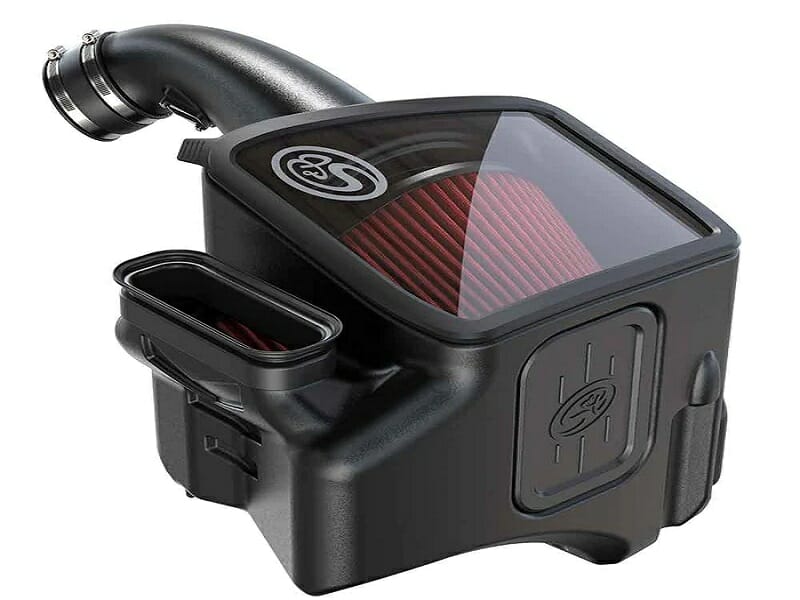 S&B Cold Air Intake is also a popular aftermarket upgrade designed to enhance the performance of vehicles. It is an intake system that replaces the restrictive factory air intake with a high-flow air filter and a custom-designed intake tube.
One of the main advantages of the S&B CAI is that it is designed to keep out harmful contaminants while allowing clean air to flow freely to the engine. This is achieved through the use of a specially designed air box and intake tube that work together to create a seal against the hood of the vehicle.
K&N vs S&B Cold Air Intake: Head-to-Head Comparison
Components
CAIs from both brands come with almost similar structures. An air filter, a barrier to protect it from hot air under the engine hood, an airflow pipe, and some clamps to attach the whole system are the basic components of each CAI. So, there is no huge difference in what you're getting.
Filter Type
Both offer dry and oiled air filters. However, in most S&B CAIs, you'll get the scope of selecting from both options. On the other hand, K&N doesn't have both options to choose from in most cases. Instead, you would have to pick one in most cases.
You'll get a reusable filter from both brands that you can continue using for a long time.
Replacement Filter
If you want to replace the filter only, you can do that in both cases. K&N and S&B have independent filters to offer you. You'll get the appropriate replacement filter for your CAI from the respective brands. You won't have to bother much about finding an identical replacement filter.
Heat Protection
To save the filter from engine heat, both come with heat shields. In the case of K&N, heat shields don't cover the filter completely. Instead, it covers only 3-4 sides.
On the other hand, S&B heat shields cover the filter completely to ensure maximum heat protection. This helps the filter to perform better. The shield has a clear lid that allows you to check the filter easily.
Airflow Pipe
K&N uses either lightweight aluminum or heat-resistance high-density polyethylene to make the airflow tubes. A powder coat on the tubes is used to make them heat and corrosion-resistant.
On the other hand, S&B uses premium plastic to make airflow pipes that can handle huge pressure and heat without breaking. They are designed to minimize airflow restrictions.
Installation
In both cases, the installation takes around one and a half hours if someone expert handles it. The process is not that complex, as they are made to be vehicle-specific. You'll find installation instructions on their websites, online, and on YouTube.
For installation, you'll need common installation tools. So, you can say that both are quite simple to install.
Some K&N filters can be installed in less than 60 minutes.
Availability
Both air intakes are available for a wide range of vehicle makes and models. Being renowned brands in the world of cold air intake, they make products for all common vehicles. So, getting one for your vehicle won't be tough.
However, there might be some exceptions.
Variations
Both brands offer you variations in air filters, airflow pipes, and color sometimes. So, you can enjoy the freedom of picking from the options. However, in the case of S&B, you'll get more freedom.
Warranty
S&B offers a million-mile warranty with restrictions like off-roading, racing applications, etc. Besides this, you can enjoy a one-year warranty for manufacturing defects. To enjoy the warranty, you must buy them from any S&B authorized dealer.
K&N also offers a 1,000,000 miles or 10 years warranty, which comes first, under several restrictions.
It is better to talk to the seller about the warranty before picking any CAIs from these brands.
Performance
Both offer you improvement in the overall performance of your vehicle. You'll experience better torque, mileage, and horsepower from your engine compared to before. As things and surroundings vary, it is impossible to measure the differences in their performance perfectly.
But if you want to enjoy a better driving experience than before, both can help you.
Price
When it comes to price, S&B offers you a better pick in most cases. I've gone through a few options and found that S&B offers you a better option at around $50 less than K&N in some cases. However, K&N has tried to fix this with a $50 discount on a few options.
To get a better deal, you should check both.
User Review
I've surfed through several forums to have an idea about the user reviews. In my experience, users have often suggested S&B more than K&N. Both brands have decent user review backing them, but when it is about K&N vs S&B, most have voted for S&B.
---
K&N and S&B – A Quick Comparison Table
| | | |
| --- | --- | --- |
| Comparison Fields | K&N | S&B |
| Filter Type: | Only oiled or only dry in most cases | Oiled or dry in most cases |
| Heat Shield: | Covers 3-4 sides | Covers completely |
| Replacement Filter: | Available | Available |
| Warranty: | 1,000,000 miles warranty | Million miles limited warranty and one-year manufacturing warranty |
| Performance Improvement: | Yes | Yes |
| Price: | More than most S&B | Less than K&N in most cases |
| User Preference: | Preferred by many | Many prefer this more than K&N |
---
K&N Cold Air Intake Installation Guide
---
Frequently Asked Question
Which system provides better filtration for the engine?
Both the K&N and S&B Cold Air Intake systems feature high-quality air filters that are designed to provide excellent filtration for your engine. The K&N system uses a washable and reusable cotton gauze air filter, while the S&B system uses a large, high-flow cotton gauze air filter. Both filters are effective at filtering out contaminants and preventing engine damage.
Can I install the K&N and S&B system myself, or need a professional?
Both the K&N and S&B Cold Air Intake systems are designed to be relatively easy to install, and most people with basic mechanical skills and tools should be able to complete the installation themselves.
Do K&N and S&B systems increase fuel efficiency?
Yes, installing both CAI systems can improve your vehicle's fuel efficiency by increasing the amount of air entering the engine and improving combustion.
---
S&B CAI Review and Installation Guide
---
Final Verdict
When it comes to K&N vs S&B cold air intake, it is tough to select the winner because both brands offer awesome CAIs to the market. However, from the pricing and performance point, you can put S&B a bit higher than K&N for several reasons.
If you ask me about the winner, I'll go for S&B. The reason is- it offers heat protection that completely protects the filter. Also, it offers CAIs at a competitive price range. But picking a K&N won't be a very bad decision. They can support you well.
The best way of picking a CAI is to compare the exact intakes made for your vehicle model and make instead of comparing the brands. So, I suggest you find out what both brands offer for your vehicle. Then compare those two from several perspectives: price, components, installation process, availability of replacement parts, performance improvements, user reviews, and other issues.