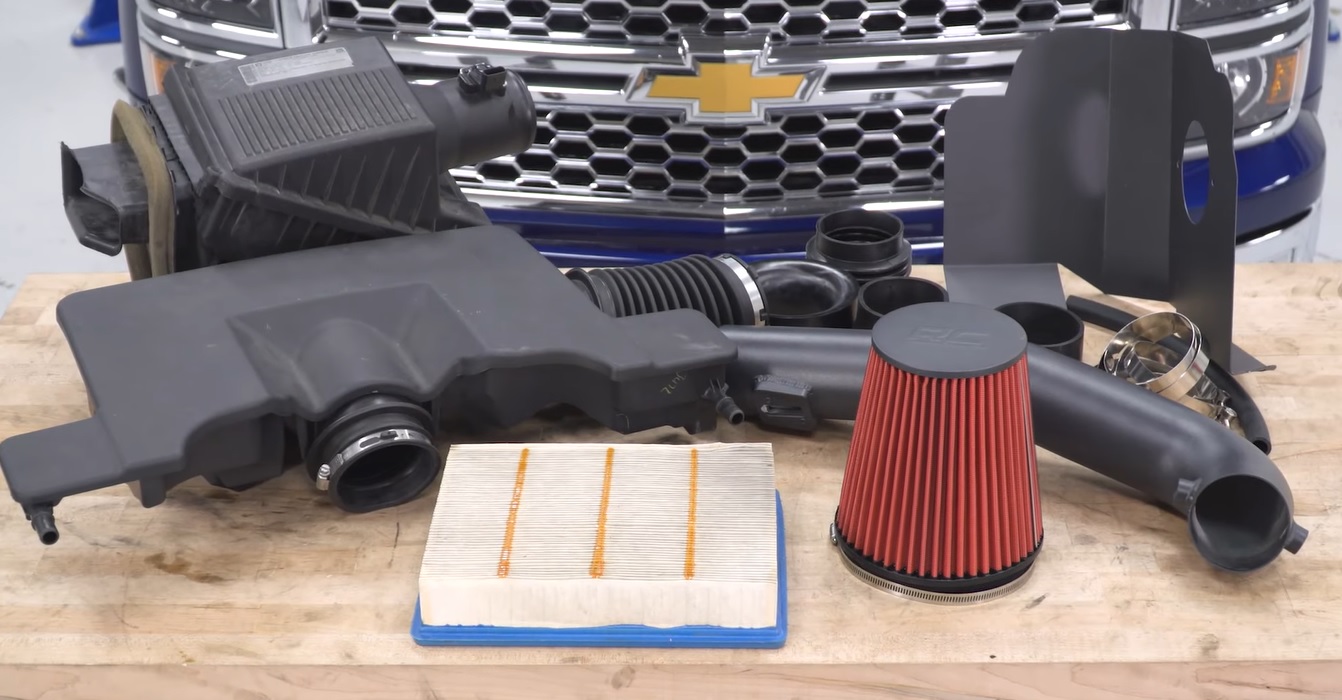 I was familiar with tonneau covers from Rough Country as I've used them for a long time. But I wasn't aware of cold air intakes from this brand. I was looking for a good CAI to replace my old one a few months ago when I came to know about Rough Country CAIs.
As I was happy with the truck bed covers offered by Rough Country, I thought of trying its CAI too. But I was not sure about the performance as I've used more expensive CAIs from reputed brands like K&N, Sinister Diesel, and aFe.
After some research, I bought one and installed it in my truck. Now in my Rough Country cold air intake review, I'm going to share my thoughts regarding this CAI to help you make a purchasing decision.
This review is based on my research and experience of using a cold air intake from this specific brand. If you want to know more about it, stay with me.
Rough Country Cold Air Intake Review
Build Material
Rough Country hasn't provided enough information about the materials of the CAIs. But I guess they use a high-quality cotton gauge material to build the conical oiled filter, which can be washed and reused. The filter material seems similar to the material of the filters from premium brands.
The airflow pipe is made of aluminum and has a black powder coating over it. To ensure a better connection, the package includes couplers made of silicon.
The airbox is made of billet aluminum to ensure maximum protection from heat. The weather stripping seal around the airbox seals the area inside when the hood is closed.
So, this CAI is pretty good when it is about the materials used.
Build Quality
I think Rough Country has done well when it comes to build quality. The measurements are accurate. So, connecting the parts was not a hassle at all.
The parts are strong and well-built. I haven't found any wear or tear till now.
Performance
Let's talk about performance a bit.
I saw a good performance improvement just after installing it. My previous CAI was pretty old. So, having a new one must show some improvement. That's why I was not very excited about this.
But it kept showing a satisfactory performance for a long time. As it is a cheaper CAI compared to the previous ones I've used, I was not expecting this good result.
It added some horsepower to the engine and helped me save a little bit of gas. Also, you can expect a better towing experience after installing it.
Price
Rough Country CAIs are comparatively low priced compared to other known brands like K&N, aFe Power, S&B, etc. You'll find them within a hundred and fifty bucks.
I think Rough Country has aimed to capture the mid-range market where people want performance but can't spend a huge amount. That's why it offers its products at this price, whereas most known brands charge double or more for a good CAI.
Installation
Installing my Rough Country CAI was comparatively easy. All the CAIs from this brand are made to be direct replacements for factory CAIs. So, you don't have to make changes under the hood.
After getting rid of the old one, I needed only an hour to install this. The complete installation process is available on the Internet. Don't worry about it.
Warranty
All the CAIs from this brand are backed by a limited lifetime warranty. So, you have nothing to worry about.
My one is performing well. So, I haven't dealt with warranty issues till now. I'd suggest discussing the warranty with the seller before confirming purchases. It may vary from seller to seller.
Downsides of Rough Country Cold Air Intakes
Till now, I've discussed only the good things about these CAI. Let's talk about some negatives too.
Besides improving the performance a bit, it increases the noise under the hood sometimes. Many users overlook it or love it. I don't know about you. So, just informing it.
Some users have found that the clamps are a bit clumsy. You may have to purchase a new set of clamps to set the CAI properly.
Rough Country Pre-filters
To allow the filter to work a bit longer, it offers pre-filters. Pre-filter is a filter bag that catches large debris and dirt before entering the filter. Thus, you can use the filter for a longer time. Also, you'll have to wash the filter less frequently if a pre-filter is applied.
These pre-filters are made of silicon-treated polyester material and come with micros-size openings. Thus, they can catch debris without creating a barrier to airflow.
Washing a pre-filter is a hundred times easier than washing the filter. Also, a pre-filter costs you way less than a filter. So the overall effort and expense for maintaining CAI become low if you use them.
Rough Country Cold Air Intake vs. K&N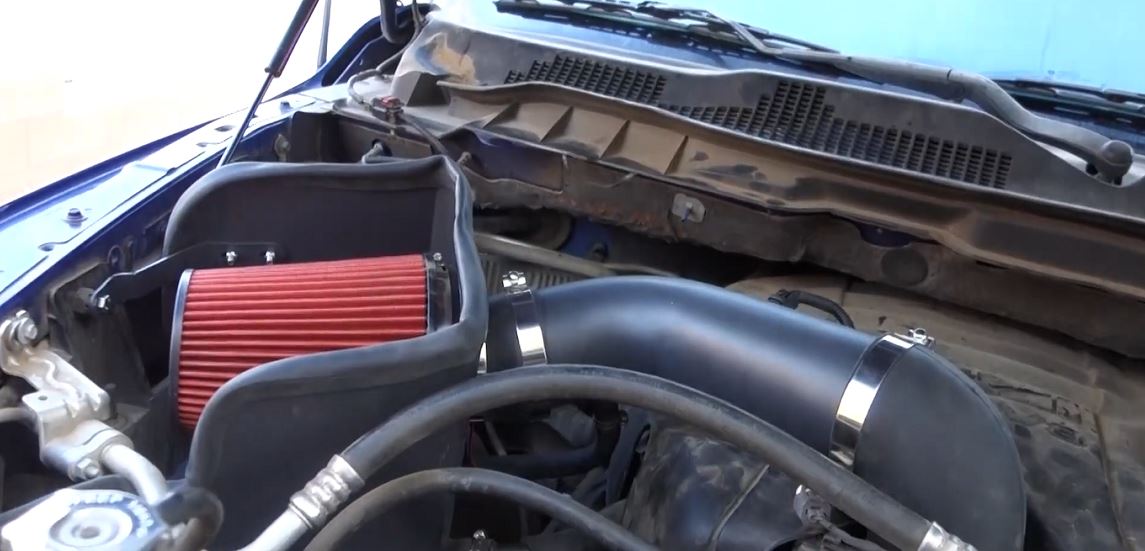 While researching, I found many people searching for a CAI comparison between Rough Country and K&N. As I've used both, I have an idea about their performance. So, here is my take on this.
Rough Country offers mid-range air intakes, whereas K&N intakes are pretty expensive. Thus, you can't expect both to perform equally. K&N is a big brand for CAIs, mostly because of the performance, fitment, and durability it offers. On the other hand, you'll get some performance improvement if you install one from Rough Country, but that can't match K&N.
Some K&N air intakes can support you in racing tracks. But the ones from Rough Country are not suitable for racetracks. You'll find some more differences between these two. Check the table below.
| | | |
| --- | --- | --- |
| Features | Rough Country | K&N |
| Performance Improvement: | Slight | Noticeable |
| Throttle Response: | Slightly better | Faster response |
| Installation Time: | Around 1 hour | Less than 1 hour |
| Material: | Cotton gauge, Plastic/Polyethylene, Silicon | Cotton gauge, Aluminum/Polyethylene, Silicon |
| Parts Availability: | Available | Available |
| Price: | Mid-range | Premium-range |
You can see the common differences between cold air intakes from these two brands.
I would suggest Rough Country cold air intakes to people who don't want to spend a lot on CAI replacement. If you have other improvements to make, you can pick Rough Country to save some bucks. It uplifts your car's performance a bit to allow you to enjoy your daily rides.
On the other hand, if the price doesn't matter, you can pick K&N. You'll get a satisfactory performance from it.
Where to Buy Rough Country CIS?
You can purchase these CAIs directly from Rough Country's website. Besides, they're available in the Rough Country Store on Amazon.
Also, you'll find them in Walmart and several other online platforms.
Offline shops also sell these CAIs. Check the nearest car part shop to buy one.
---
How to Install Rough Country Cold Air Intake
---
Frequently Asked Questions (FAQ)
How long does a Rough Country CAI last?
While researching, I've found people using it for around 2 years without a problem. Also, some have complained that this CAI started showing issues within two months. So, I can't give a specific answer to this question.
My one is performing well without any issues. So, I can say that you can put your bet on it. It can last more than you expect from any CAI in this range.
Can I use these CAIs for racing?
I don't think these CAIs would help much when it comes to racing. The racing application needs premium CAIs that can send a huge amount of air toward the engine.
These CAIs are perfect for daily use and irregular towing applications. These mid-range CAIs offer good performance as long as you use them for regular driving. If you're looking for something to use on the racetrack, premium CAIs made specifically for race can help you better.
Do they comply with CARB regulations?
These CAIs don't fulfill CARB conditions. So, you can use it in California. Also, it is not for other states or cities that maintain CARB. Before buying it, check if your city follows CARB.
---
Final Verdict
I don't think Rough Country CAIs are the best in the market. But, from my Rough Country cold air intake review, you can see that it can be a good pick if budget is a big matter. The value you'll get is worth spending the bucks.
They ensure better performance. You may experience a slight improvement in mileage too. Also, they are available everywhere. If installed appropriately, they can serve you for a long time. You can utilize the limited lifetime warranty policy if it breaks for manufacturing issues.
I would say that Rough Country offers some good CAIs you can pick. I'm satisfied with what I've got for the money. It may not be the best CAI, but when it comes to a worthy CAI on a mid-range budget, Rough Country is a good pick.