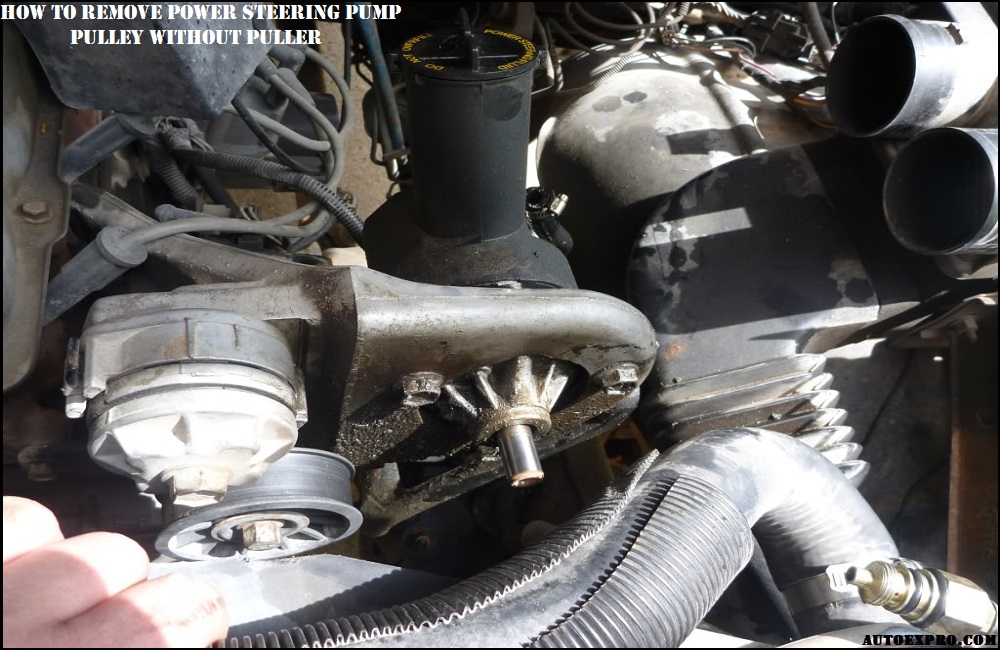 I noticed some people asking around how to remove power steering pump pulley without puller. The first thing I would like to emphasize is, you shouldn't do it at any cost. Pullers are very inexpensive, and you can find them everywhere.
If you need to remove the power steering pump pulley immediately, try borrowing a puller from someone else, or wait till you buy one. However, if you're facing an emergency that doesn't allow you to get a puller, I've included a guideline for you below.
How To Remove Power Steering Pump Pulley Without Puller?
I will again like to remind you that it's a risky thing to do. If you have any other options, you shouldn't remove a power steering pump pulley without a puller. Now, without any further ado, let's get to the procedure.
Step 1: Remove The Battery Connection
Before you proceed to any modification on your vehicle, it's crucial to disconnect the battery. Find out where your car battery is located. Then, remove the negative and positive cables from it. After you've disconnected the battery, lift your vehicle using a hydraulic lift.
Step 2: Open The Engine Cover
Most vehicles allow you to reach the power steering pump pulley easily. If you're having difficulty locating it, it's always a better idea to seek guidance from the instruction manual. It's also helpful for locating every part specifically, depending on the vehicle model.
Step 3: Remove The Drive Belt
First, you need to remove the serpentine belt by loosening the tension pulley. Once the tension pulley loosens, you can easily remove the serpentine belt. Then, if your car has a drive belt, remove that as well.
Step 4: Remove The Hydraulic Lines
You will notice the hydraulic lines, which are connected to the power steering pump's bottom. Use a line wrench to remove them. Make sure to place your vehicle somewhere you don't mind getting the floor dirty. Or, you can place a drip pan below the vehicle.
This step will drain some fluid, so it's better to be prepared.
Related Post: How to Reset Reduced Engine Power Light
Step 5: Remove Mounting Bolts
This step requires you to remove mounting bolts from the power steering pump. These bolts attached the pump to the socket. You will need an impact wrench to remove the mounting bolts. After you've removed the pump, you can jump to the next step, which is removing the pulley.
Step 6: Remove The Power Steering Pump Pulley
The trickiest part of the process is removing the pulley. Even with a decent pulley removal unit, it takes time and strength to do it with perfection. Even though there are other ways to remove the pulley without a puller, I'm describing the method that works quickest.
First, take the pump and place it somewhere you can work easily. Then, tap a wedge between the pulley and the pump using a piece of metal pipe and a hammer. Now, heat the middle of the pulley with a blowtorch and pull it off. Next, hit it with a hammer from behind to dislodge it.
You can imagine why this is not the ideal way to remove the pulley. I've included the proper way to do it using a removal tool in the section.
Related Post: How to Remove Transmission Cooler Lines from Radiator
How To Remove Power Steering Pump Pulley With Puller?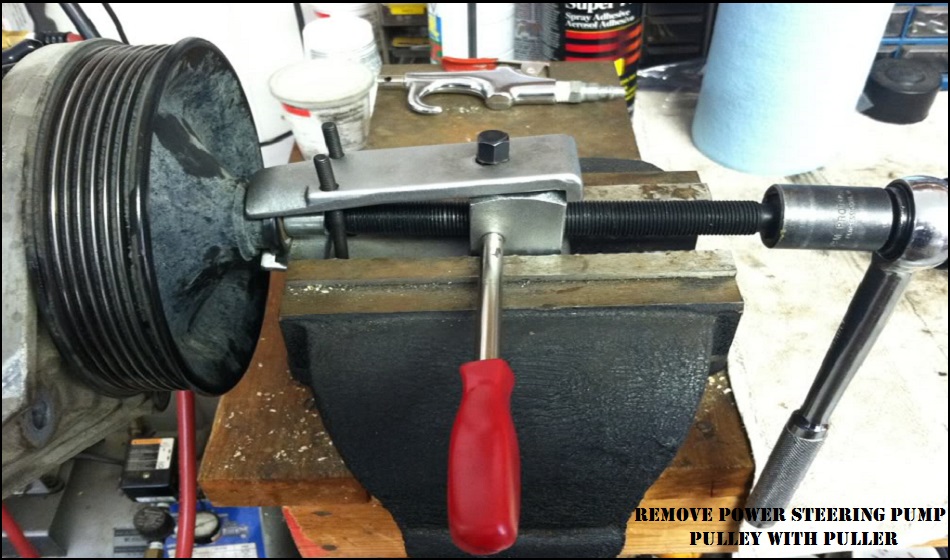 For this procedure, you will need a pulley remover tool, also known as a puller. First, place your power steering pump in a workbench. Now, you will have to attach the tool to the pulley.
Lead the locking nut on the pulley's edge. Slowly loosen the pulley with a socket and ratchet while holding the pulley attachment nut.
This is a slow operation, but it is required in order to remove the power steering pulley accurately. Continue to loosen the pulley until it is no longer attached to the power steering pump.
Note that using a pulley will not only facilitate the procedure but also keep your vehicle parts safe. If you don't want to risk damaging your car, it's better to use the right tools.
Things To Remember
Always follow safety protocol when dealing with your vehicle.
Use a safe area to change your power steering pump pulley.
Follow the instructions manual provided with each tool.
Always try to use proper tools when working on your vehicle.
If you're not confident about the procedure, don't hesitate to seek professional advice.
Use a drip pan below the vehicle to avoid any mess.
Let the engine cool before working on the vehicle.
Always keep your pulley in check for damage.
Get your vehicle checked out by a professional every now and then.
Don't drive your vehicle with any damage.
Always be on the lookout for unusual sounds.
---
Power Steering Pump Pulley Removal Video 
---
FAQ's About Power Steering Pump Pulley
Can I remove power steering pump pulley without a puller?
You certainly can. However, it's not the ideal way to do it, and you run the risk of damaging your vehicle parts. So, always try to get a puller to remove the pulley to avoid any unwanted situations.
How much does a power steering pulley puller cost?
A puller will cost you somewhere between $20 and $60. Removing a pulley without a puller can be risky and bothersome. So, it's better to spend on a puller and make the procedure comparatively easier and safer.
What does a loose power steering pump pulley sound like?
If your vehicle's power steering pulley becomes loose, it generates a rattling sound. Experiencing a loss of power steering is also possible, considering the fact that the pump loses the ability to force the hydraulic fluid. Another way to make sure whether a pulley is loose or not is to press on the serpentine belt.
How much is a power steering pulley?
A power steering pulley's price ranges from $15 up to $160, depending on your vehicle's engine. On the other hand, the labor cost can vary between $150 and $250. So, if you can replace a pulley by yourself, you will save a lot of money.
Related Post: Portable Jump Starter Not Charging
Final Words
I can't emphasize enough how essential it is to use a puller to remove a pulley. Still, if you ever find yourself in a position where you can't manage a puller at all, it's better to know how to remove power steering pump pulley without puller.
Hopefully, you won't have to use this knowledge, but sometimes the skills we think are unnecessary can come in handy. The better solution to this issue is to get a puller matched to your vehicle. A puller won't cost you much, and it will certainly be a worthy investment. You can save a lot of money by not visiting a professional when the pulley gets damaged.