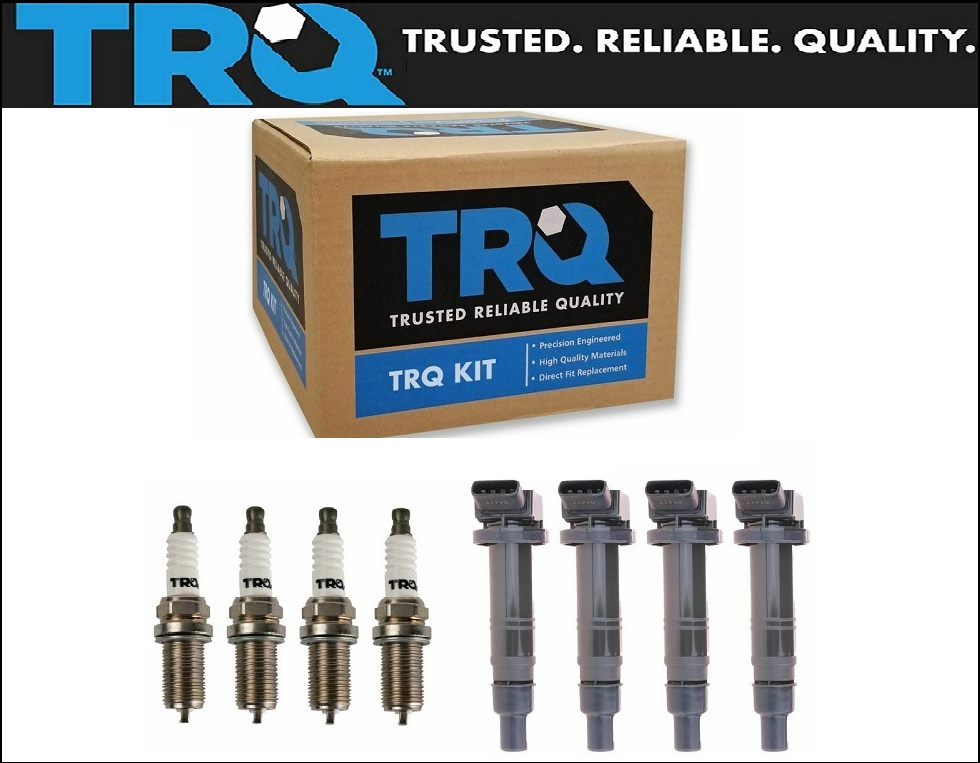 The ignition system is known as the heart of a vehicle. And what keeps that heart pumping power to the car parts to keep it running are the ignition coils. And without healthy ignition coils, it is natural for the car to stall and sometimes stop working.
And that is when you need to install new ignition coils in your vehicle. But how do you know if you are getting suitable coils or if will they adapt well? The answer is that you don't unless you research and find out which ignition coils would meet your expectation.
However, one of the best-known brands for car parts is TRQ. And I happen to come across its ignition coils for replacing the previous ignition coils for one of my cars. So I thought, why not share my TRQ Ignition Coils review with you all?
What Are Ignition Coils?
The ignition coils are the car's ignition system's induction coils. They are also known as spark coils as they create high-voltage sparks from the battery's low-voltage power. This spark ignites the fuel and supplies power to the other car parts through the distributors.
Simply put, the ignition coils create a huge amount of electric power from a smaller source. The spark plug creates sparks with that power, igniting the vehicle's fuel. When the fuel gets the power boost, it helps start the car, and we ride on.
Though all car parts have their own importance, none of them would make the car capable of starting if the ignition coils are not present or fail. That is why it is essential to ensure the ignition coils in your vehicle are suitable enough to be installed or need replacement.
Modern ignition coils are not as large as the older ones since they do not need to power up many spark plugs like before. And these ignition plugs can be installed directly on the spark plug's top or remotely.
TRQ Ignition Coils Review


TRQ is a brand that stands for Trusted, Reliable, and Quality. So it is natural to expect the best product from such a brand. The company ensures that with TRQ ignition coils, your vehicle will receive 15% more power than other brands' coils.
But are these ignition coils compatible with your car models? Do they perform as the manufacturer promises? What other features and benefits will you be getting from these coils? You can learn more about it in the following Ignition Coils review.
Construction
Since the company stands for reliability, the manufacturer ensures the coils are made with more care. Though the ignition coils are lightweight, they are solid and robust.
The coils went through double winding along with the premium material to ensure robust performance. Moreover, the construction has proven to provide better electrical balance.
Compatibility
Keeping the variety of users in mind, TRQ made the ignition coils compatible with various vehicle models. However, that variety is limited to Ford and Lincoln car models. I have mentioned the car model and capacities right here.
Ford Models
2011-16 Ford F150 Truck Turbo V6 3.5L
2012 Ford Taurus Turbo V6 3.5L (Built After 2/06/12 Production Date)
2013-19 Ford Taurus Turbo V6 3.5L
2013-19 Ford Flex Turbo V6 3.5L
2013-19 Ford Explorer Turbo V6 3.5L
2013-19 Ford Police Interceptor Sedan Turbo V6 3.5L
2014-19 Ford Police Interceptor Utility Turbo V6 3.5L
2015-17 Ford Expedition
2015-19 Ford Transit T350 Turbo V6 3.5L
2015-19 Ford Transit T250 Turbo V6 3.5L
2015-19 Ford Transit T150 Turbo V6 3.5L
2015-19 Ford Transit T350 HD Turbo V6 3.5L
Lincoln Models
2012 Lincoln MKT Turbo V6 3.5L (Built After 2/09/12 Production Date)
2013-19 Lincoln MKT Turbo V6 3.5L
2013 Lincoln MKS Turbo V6 3.5L (Built After 10/01/12 Production Date)
2014-16 Lincoln MKS Turbo V6 3.5L
2015-17 Lincoln Navigator
Durability
I had to be careful to understand the durability range of the TRQ ignition coils as it is vital. While good-quality ignition coils can last up to 2 and a half years, this coil set lasts around one and a half years. However, you can increase the durability if you maintain the car well.
Price
Ignition coils do not come at a low price, especially if they are from reputed brands and offer high-quality performance and more extended durability. As for these TRQ ignition coils, the cost can be a drawback if you compare them with the performance you get. There are other options at a budget-friendly price, making users avoid purchasing this coil set.
Pros & Cons Of TRQ Ignition Coils
Here are the pros and cons of TRQ Ignition Coils.
Pros
Smooth Performance: Because of their premium-quality material, these ignition coils provide smoother performance. You can say goodbye to those bumpy rides, and the vehicle will not stall.
Versatile: The TRQ ignition coils are made to stand out in the crowd of other ignition coils. The design is stylish, and the red color gives away a cool and classic vibe.
Increases Mileage: The company claims that the coils help boost mileage and fuel efficiency by 15%. While it might not be that much, it certainly helps with increasing mileage in some ways.
Durable: The review might make it sound like the coils are not durable enough. But it is entirely the opposite, as the coils can easily help your car run around 110,000 miles. So you can forget worrying about replacing them for a long time.
Installation Ease And Warranty: For installation ease, the package comes with necessary kits and instructions. And you get a lifetime warranty, which helps in the long run.
Cons
Limited Compatibility: As you noticed, the ignition coils are compatible with mainly Lincoln and Ford vehicle models. That makes the set limited availability for people who own a different vehicle model.
High Price: The price is a big NO-NO for many users as it is comparatively high. However, low-priced options can lack various features and qualities that TRQ ignition coils have.
---
Different Types Of Ignition Coils

To understand the ignition coils you purchase, it is essential to recognize what type of coil it is. You will find four types of ignition coils in the market, and here they are.
1. Breaker-Point Or Conventional Ignition Coil
The conventional or the breaker-point ignition coil system has been around since the early 20th century. The coil is used on a system with a conventional breaker point, which is how it got the name.
In this system, the electrical power flows from the battery into the coils. Then the points are opened by the distributor cam. Thus, the coil's electrical circuit breaks, allowing the current to flow onto the spark plug and distributor cap.
2. Electronic Ignition Coil
Electronic ignition coils were more popular around the 1970s. Manufacturers had arranged this type of coils as they were more reliable at that time.
This ignition coil has pretty much all the qualities and features of the conventional one. However, instead of the distributor cam and point, it has an electric system. This system requires a pick-up coil for signaling the control module.
3. Distributorless Ignition Coil
Automobile parts makers started manufacturing distributorless ignition coils in the 1980s. It creates more energy from the coils, making them suitable for more robust vehicles. Instead of two, this type of coil is mounted with three or more of them together.
A magnetic triggering device helps determine the engine's speed. The coil gets energy when the triggering device sends a signal to the engine control module.
4. Coil-On-Plug Ignition Coil
Coil-on-plug or COP ignition coils are a more modern invention. It unites all the electronic controls you find in a direct ignition system.
While other coils deal with two cylinders, the COP system deals with a single cylinder or spark plug. That is why many such coils end up producing a higher voltage and hotter spark. COP ignition coils are less costly to repair.
Things To Consider Before Purchasing Ignition Coils?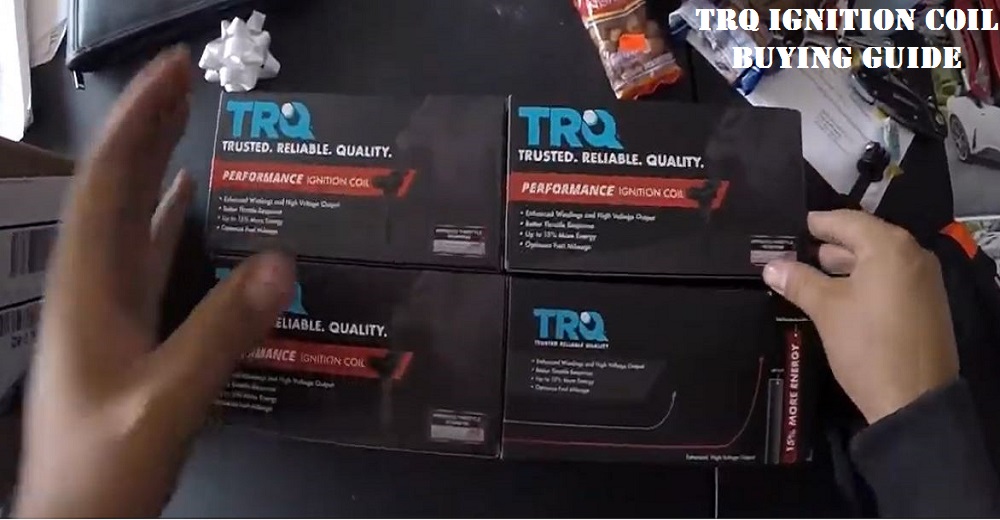 Even if you read many reviews, you can easily get confused when choosing the ignition coils. That is why I prepared a buying guide with a brief description of the essential things you need to consider before you decide to buy them.
Modern ignition coils are more upgraded than those available a decade ago. Even the material has changed. So make sure the construction of the coils is robust and they do not have any gaps in the winding that can cause problems.
Is your car compatible with ignition coils? My TRQ ignition coils review above will tell you that this set is compatible with several Ford and Lincoln vehicle models. If your vehicle is among the listed models, the coils will be compatible with it.
TRQ is a brand that offers reliable ignition coils to its customers, just as the brand's name stands for. And no matter which ignition coil you purchase, it is essential to consider the brand's reputation and popularity to know if the parts are reliable enough.
You would want a durable set of ignition coils for your vehicle. If the coils are not durable, they will increase maintenance costs for your car as replacing them is costly. On top of that, less durable ignition coils wear off quickly and decrease your vehicle's fuel efficiency.
Before you consider purchasing a single ignition coil, think again. Buying single coils can be more expensive than getting them in sets. That is why it is best to purchase more than two-coil sets as they are more economical.
Since installing ignition coils is pretty straightforward, most people install them following manuals or tutorial videos on YouTube. But if you think you are not up for the job, it is best to contact the supplier or nearest workshop to get help from a professional.
Does the pack come with everything you need for installation? I would suggest getting those who do because they make everything less troublesome. Besides, purchasing the accessories separately can cost more money than you intend to spend.
There are so many budget-friendly options available for various ignition coil sets. But you should always be ready to spend some extra if you want something better performing and long-lasting.
FAQs About Ignition Coils
How often should I replace the Ignition coils?
Generally, ignition coils require changing after the vehicle crosses 100,000 miles. But in some cases, they can last longer.
That is why the replacement time can always be different depending on the ignition coils' performance. Nevertheless, on average, ignition coils require replacement after 100,000-110,000 miles or 1.5-2 years.
How do I recognize faulty ignition coils?
There are several signs to recognize faults in the ignition coils. Some common signs are delayed start, misfiring, power supply issues, etc.
The earlier you recognize these signs, the better it is for your vehicle. Besides, faulty ignition coils decrease a vehicle's fuel efficiency.
What causes the ignition coils to fail?
The ignition coils can fail or misfire for various reasons. But two common causes are overworking the vehicle and the coils getting old.
Other than these, the coils can fail if the wires resist more than their capacity, the spark plugs wear out, etc.
How do I ensure maximum durability for my vehicle's ignition coils?
The best way to ensure ignition coils' maximum durability is to maintain them properly. Try not to overwork your vehicle because it can make the coils wear out faster.
The less they are exposed to higher temperatures, the better. Furthermore, try storing unused ignition coils in a cool and dry place to increase their longevity.
---
How to Install Ignition Coils from TRQ
---
Final Verdict
Vehicle ignition coils are not something you should ignore if you want your car to start instantly, run smoothly, and without issue for a long time. And the best way to ensure that is to get ignition coils that offer everything you need for your vehicle.
And my main purpose for writing this TRQ Ignition Coils review is to introduce you to this robust coil set that practices what it preaches. They are reliable and user-friendly, and the lifetime warranty keeps your worries at bay.
---
References: 
https://itstillruns.com/ignition-coil-types-7611673.html
https://www.1aauto.com/content/articles/ignition-coil-packs
https://www.quora.com/What-are-the-different-types-of-ignition-coils
https://www.whizz.ae/products/automotive/replacement-parts/