Purchasing the perfect wheel is, in no way, less crucial than a brand-new car. You have to choose the color and see if it matches. For black lovers, it becomes quite confusing at times. Matte black or gloss back, gloss back or matte black – which is the better option?
To help you out of the dilemma, I covered everything related to matte black wheels vs. gloss black wheels. Apart from the colors, I brought up other essential factors to compare them. I also talked about their cleaning maintenance.
Go through them, analyze the differences, and find your favorite one.
Matte Black Wheels
Matte Black Wheels are simple and plain black. They are not shiny or flashy as the color remains darker by absorbing more light. Using them on a black vehicle will make it look unique as they reflect very little light.
However, although the appearance will blow your mind, the wheels are highly vulnerable to scratches. They are like magnets for dirt and dust, which makes them high maintenance. If you own them, you will have to spend a lot of money, time, and labor cleaning and maintaining them.
But there is an advantage. Since the wheels have a glossy finish underneath a matte one, they will conceal swirl marks and light scratches inflicted during washing. Contrarily, there will be frequent stains if heavy chemicals are applied to the surface. In that case, again, you have to be more careful about maintenance so that the wheels do not stay dry for long periods.
The wheels suit almost all cars, but they are specifically fantastic on full white and black ones. Managing the maintenance part will reward you with an eye-pleasing and dashing look.
Gloss Black Wheels
Gloss Black Wheels are the opposite as they reflect more by absorbing less light. That gives them a glittery look. Additionally, their surfaces have more stability with a shimmer, making them more difficult to damage or scratch.
As a result, they do not take in that much dust, saving owners from spending a fortune on their maintenance. If the color changes because of damage, you can get gloss black spray paint to take care of that.
The wheels are a perfect match for any non-black car. If you have a red, green, yellow, or silver one, they will complement it just right. But that does not mean you cannot get them for your black car. If you want a sporty and aggressive image for it, gloss black is the way to go!
---
Matte Black VS Gloss Black Wheels: Toe-To-Toe Comparison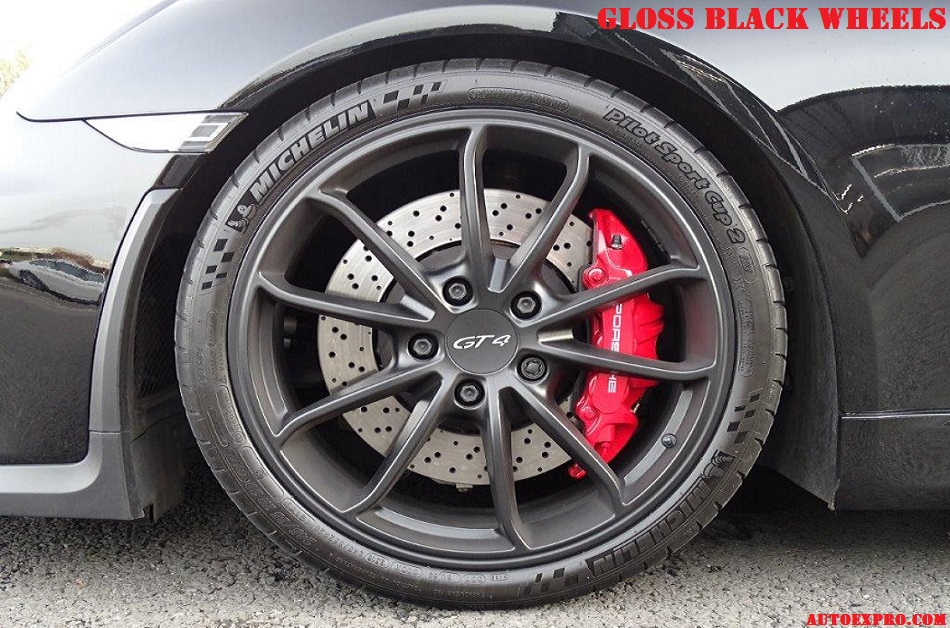 Although they both are technically black, they have significant differences in terms of cleaning, protecting, polishing, etc. Let's get to them for your better understanding.
It is one of the most important dissimilarities between the two wheels. Matte black is less reflective. It has a calm and classy vibe.
In contrast, gloss black is highly reflective, eye-popping, and flamboyant. Racing your car with them will give you a gorgeous and refreshing feel.
When you have matte black wheels, you cannot polish them. Polishing is only for flashy stuff, which matte black is not. You can simply keep them clean enough to get their best performance.
Apparently, you will need a great deal of polishing for gloss black wheels. It is an effective way to keep their appearance top-notch. But that will require a wash first because it is hard to polish unclean wheels. Even if you try to, you will not get your desired outcome. You can also put multiple polish coats on them.
Visibility Of Scratch And Dust
Matte black has higher visibility of scratch and dust than gloss black. Give it a couple of rides, and you will see that. Besides, they are prone to light scratches, demanding you to be extra careful.
Gloss black also has the same thing, but to a lesser extent than matte black. Their glossy look is better at concealing scratches than the other. So, it will take 5 to 6 rides to notice them clearly.
Whichever wheel you prefer, both are difficult when it comes to protection. You will need artificial products like powder coating, sealant, or wax for the purpose.
Users usually use wax for gloss black as it has a shinier effect and provides higher long-lasting protection. But powder coating is better suited for matte black. Sealant and wax are not of much use here because powder-coating has a thermal bonding and is more scratch-resistant.
As matte black wheels are prone to getting dirty, you are to clean them at least thrice a week. Try washing the entire car when you decide to rinse your wheels. If not, the vehicle's body will seem dull compared to the polished wheels.
Note that the color will change if you apply rough agents for cleaning because it is sensitive to light. So, use the cleaner that the wheel manufacturer recommends.
But the case is different with glossy back wheels. You will not need to wash them after each ride because they take time to get dirty. Just mop off the dust whenever you can, as it is more visible on the surface. Again, you cannot do that with a rough brush or scrubber. It could lower the paint's glossiness.
---
Matte Black VS. Gloss Black: A Quick Comparison Table
| | | |
| --- | --- | --- |
| Characteristics | Matte Black | Gloss Black |
| Appearance: | Classy, sophisticated | Vibrant, lively, and shiny |
| Maintenance: | Very high | Comparatively low |
| Light Absorption: | High | Low |
| Reflection: | Low | High |
| Scratch Vulnerability And Visibility: | High | Low |
| Polishing Requirement: | Not necessary | Necessary |
| Cleaning: | Every other day | Every 4-5 rides |
| Protecting: | Wax | Powder coating |
Product Review Comparison Between Matte Black & Gloss Black Wheels
Konig Control Matte Black Wheel
The Konig CONTROL Matte Black Wheel is an excellent winter wheel that you can use as a hubcap replacement for a standard steel wheel.
This attractive and reasonably priced wheel from renowned Chinese wheel manufacturer Konig will improve the appearance of any tiny, midsize, or crossover vehicle. It comes in several widths and sizes and is incredibly lightweight—the 17×7 inch model weighs just 18.2 pounds each.
The elegant and high-quality wheel is a perfect choice if you have a limited budget and need new matte black wheels for your car.
Pros
Very budget-friendly yet high-quality
Lightweight
Refined black finish
Available in different sizes and widths
Stylish appearance
---
American Racing Gloss Black Wheel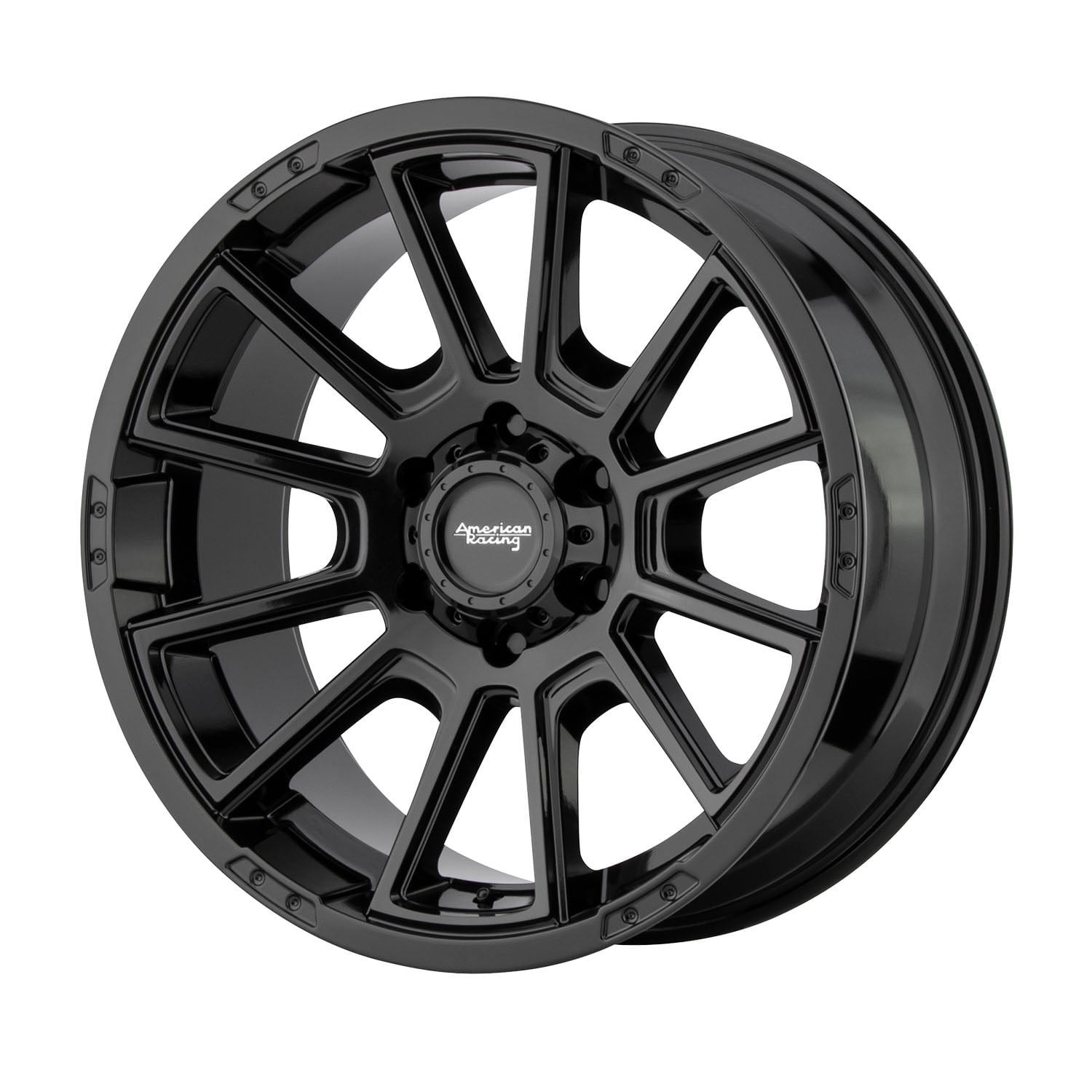 American Racing is widely popular for its Torq Thrust gloss black wheel. They are the favorite choice of most Mustangs, Camaro, and other muscle car drivers these days.
The wheel has an amusing design with superior quality. The price range is medium and worth the guarantee it provides to upgrade your car.
Moreover, the wheel features an anthracite-painted finish with a center cap and a machined lip. You will find it in 17-inch, 18-inch, 19-inch, and 22-inch diameters with multiple offsets and widths. A one-year finish warranty with a lifetime structural warranty against lifting or peeling of the finish will also be offered by the company.
Pros
High-performing wheels
Good value for money
Different diameters, offsets, and widths
Warranties available
Perfect for muscle cars
Cons
No lug nuts in the package
---
American Racing Gloss Black Wheel Video Review
---
Which Is Better – Matte Black Or Gloss Black?
You can categorize matte black wheels vs. gloss black wheels in terms of their sustainability, upkeep, and appearance.
Gloss black will bring a tasteful and trendy look to your car. But people looking for a sober, cool, and dignified aura will take a higher liking to matte black. Furthermore, it needs more care than shiny ones. Gloss is rather simple to use and not time-consuming. Although both are sturdy if you want durability, the latter holds up better over time.
But I think the question is more about what fits you better. Considering the characteristics, gloss back appears to be the better choice as they are fashionable, easily maintainable, suitable for different cars, etc.
However, if you crave the classy and calm vibe and are willing to do additional maintenance activities, you are more than welcome to buy them. They will be worth every penny and effort of yours.
FAQs About Matte Black & Gloss Black Wheels
Is gloss black more expensive than matte black?
No. Matte black is more expensive than gloss black because of its paint finish.
How often should I seal the matte black finish?
You should seal it every 6 to 9 months.
How do I take care of the matte paint?
It is necessary to use clean and fresh microfiber towels and wash mitts when taking care of matte black paint. The dirty ones will scrape the surface and create scratches.
Final Words
I hope the matte black wheels vs. gloss black wheels argument is clear now. They both are trendy with lots of attractive attributes.
Then I also pointed out where they might not be the best choice for everyone. The reviews were to help you with a better understanding.
The wheels will add up to your vehicle with different looks. There is no doubt about that. If you are neutral, the suggestion is to go for gloss black. But what if you want matte black? Pick it as long as you are sure you can do what it takes because the wheels will be at their peak when maintained adequately. Good luck!