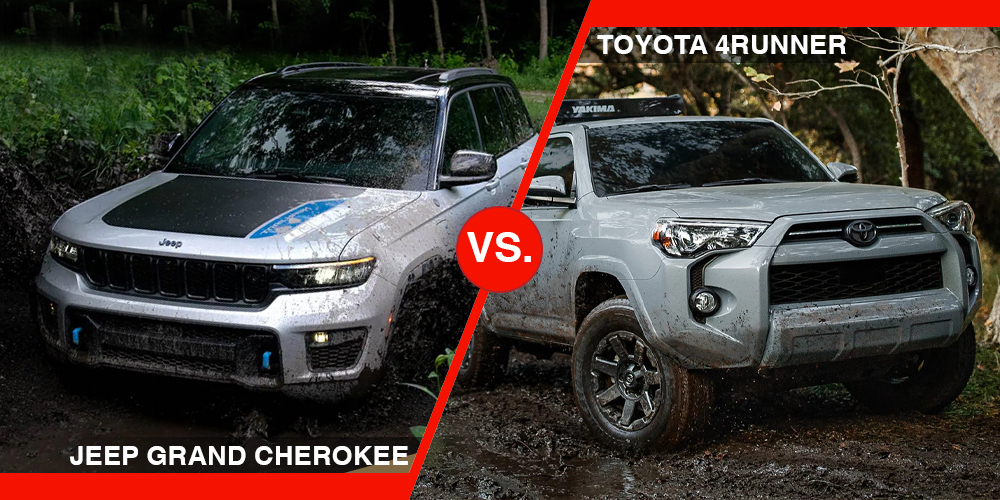 Are you having trouble choosing between two of the most reliable SUVs?
The Jeep Grand Cherokee and Toyota 4runner are two powerful SUVs that have been around for a while. Their longevity is a testament to the success of previous models over the years. The success of both vehicles sparked a fierce rivalry that's been ongoing for a while.
With new models set to roll in, the question on everyone's lips is which SUV is better? In this detailed guide, we'll review both vehicles including their engines, towing capacity, and durability to determine the one that represents a good value for money buy. Let's get to it!
Jeep Grand Cherokee Vs. Toyota 4Runner: Comparison Table
Toyota 4Runner

Grand Cherokee Jeep
Engine
4.0L V6 Gas
3.6L V6 Gas
Towing Capacity
5,000lbs
7,200lbs
Horsepower
270 @ 5600
293 @ 6400
Torque
278 @ 4400
290 @ 4000
Size
4,400lbs
 4,238lbs
Payload
1,700lbs
1,283lbs
Type
SUV
SUV
Safety

Vehicle Stability Control
Traction Control
Radar Cruise Control
Lane Departure Alert
Automatic High Beams

 

Automatic emergency braking
Adaptive cruise control
Lane keep assist
Blind-spot monitoring
Intersection collision assist
Rear cross-traffic alert.

Durability
4/5
3.5/5
Price
$39,798
$37,390
---
Jeep Grand Cherokee vs Toyota 4Runner: Detail Comparison
To form a more informed opinion about both vehicles, we'll be looking at some of their major features to see how they compare.
Engine
The Jeep Grand Cherokee is powered by a 3.6L-V6 base engine with 260 pound-feet of torque and 293 horsepower. It's enough juice to give you a good acceleration and some serious speed while on the road.
On the other hand, the Toyota 4runner comes with a 4.0L-V6 base engine with 270 horsepower and a 278-pound torque. The V6 engine on both vehicles can provide enough power to keep you going daily. However, Cherokee provides optional V8 engines.
Towing Capacity & Payload
The Cherokee's comes with a 7200lbs towing capacity. With optional equipment, the Jeep Grand Cherokee can be flat towed on its 4 wheels. This means owners can take them wherever they want without much hassle.
Also, the grand Cherokee's trailer sway control has an electronic stability control sensor that helps to detect trailer sway. When it does detect trailer sway, it can counteract it using individual breaks. This helps keep the trailer and tow vehicle steady.
Meanwhile, the 4runner can tow up to 5000lbs. It has an integrated towing hitch receiver which makes it a more functional tow truck compared to its rivals. 4runner owners can easily connect their trailer lights using the wiring harness featuring 4- & 7-Pin Connectors.
While the Grand Cherokee has a slight advantage when it comes to pulling a load, the 4runner trumps its rival when it comes to carrying a load. The Toyota 4runner can carry up to 1700 pounds of load which makes it a great truck to travel with.
Safety & Durability
The Cherokee and 4runner both come with passenger and standard driver frontal and knee airbags, front side-impact airbags. They also have traction control, anti-lock brakes, and electronic stability systems that prevent skidding.
The Jeep Grand Cherokee has a standard backup collision prevention system. This collision prevention system uses rear sensors to detect and apply breaks automatically to prevent rear collisions. Considering that more than 200 people are killed yearly due to real collisions, this prevention system is invaluable.
The 4runner's Pro TRD gives us a Standard Multi-Terrain Monitor. This off-the-road tech allows the driver to use cameras to check the surroundings and detect potential obstacles that they can't easily see from the cabin.
There is also a rear occupancy alert on the 4runner. This feature alerts drivers to check their rear seat for a pet or child before leaving the vehicle. With this alert, parents will no longer forget to take out their toddlers from the car no matter how bad their day is going.
Both vehicles have a blind-spot warning system. This alerts drivers when there's an object on their blind spot that isn't visible in the rear mirror.
Since the rivalry began, the 4runner has consistently been rated as the more reliable and durable SUV. This year is no different. While the Grand Cherokee can hold its own against many of its competitors, the 4runner 2022 has a better durability score due to its better engineering.
Size
SUVs are characteristically heavy vehicles and it's no surprise that these two heavyweights are similar in size. The 4runner is slightly heavier at 4400lbs compared to the Cherokee's 4238lbs. Of course, size is important when choosing an SUV. A heavier SUV will provide better crash protection. Most people buy SUVs because they want a vehicle that can handle tough conditions. In that case, the 4runner has the edge over the Cherokee.
Also, the Cherokee is wilder in shape. This means there will be days when you may struggle to get a good parking space.
Exterior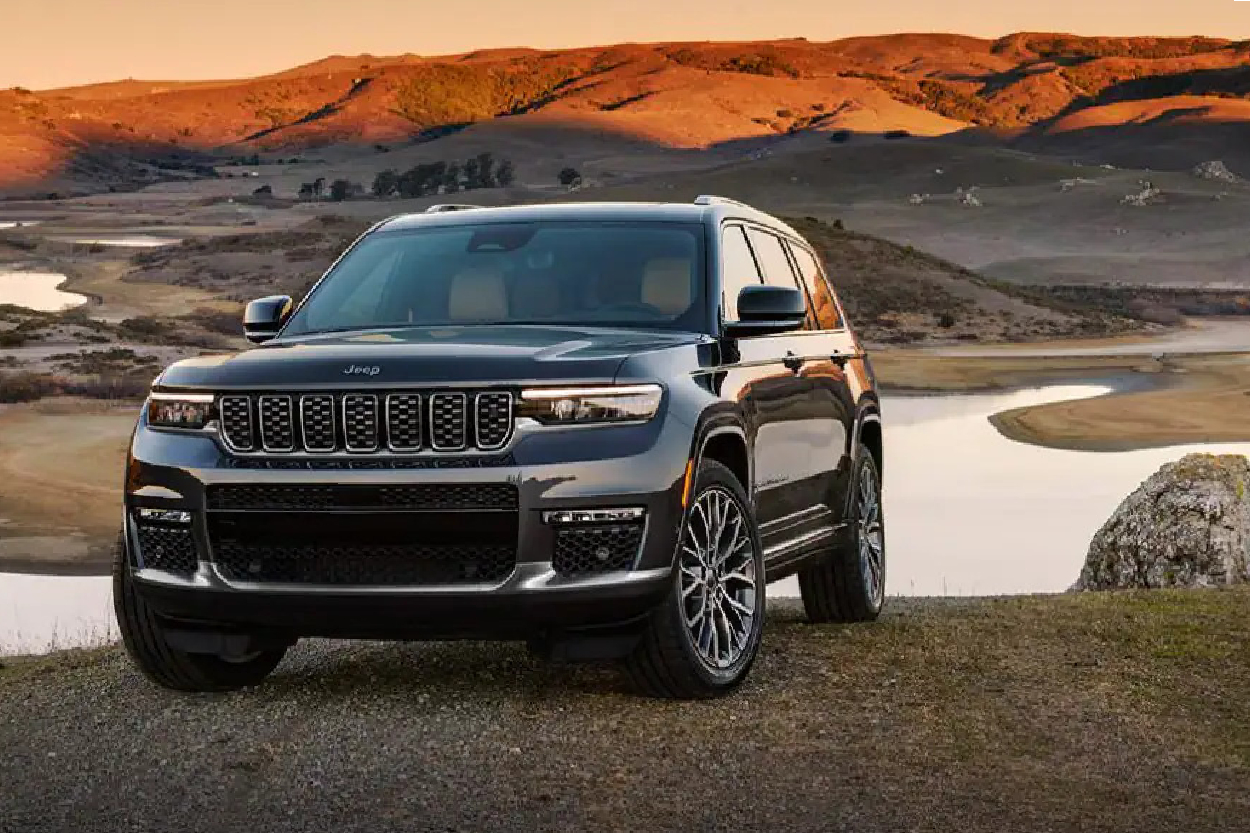 Grand Cherokee enthusiasts will be happy to know they have kept the seven-slot grille. However, it's a bit wider with the front end getting a much longer hood. You can pick between 8 different wheels including the normal 17-inches and the first-ever 21 -inches for users who prefer higher rims.
The most noticeable change on the 4runner's exterior has to be its TRD Sport trim level. It gives it a larger breadth and its main job is to improve handling.
You'll also notice that this new model features upgraded LED headlights. They've also kept the heated power outside mirrors featuring turn signal indicators and a standard Toyota front grille. The 4runner's styling is as rugged as ever. It's not sexy, but it's chunky and stylish.
Interior
On the Grand Cherokee's interior design, we get an expansion on the cargo and passenger space. The old front seat has been replaced by a 16- way adjustable seat which has technology upgrades and a massage option. Also, the centre stack features a multimedia system with a larger 8.4-inch touchscreen.
Front seat passengers also get tech upgrades with an optional 10.25-inch interactive screen that has co-pilot assistance, visual entertainment, and camera viewing. There is also optional wireless charging, Android Auto, and Apple car-play.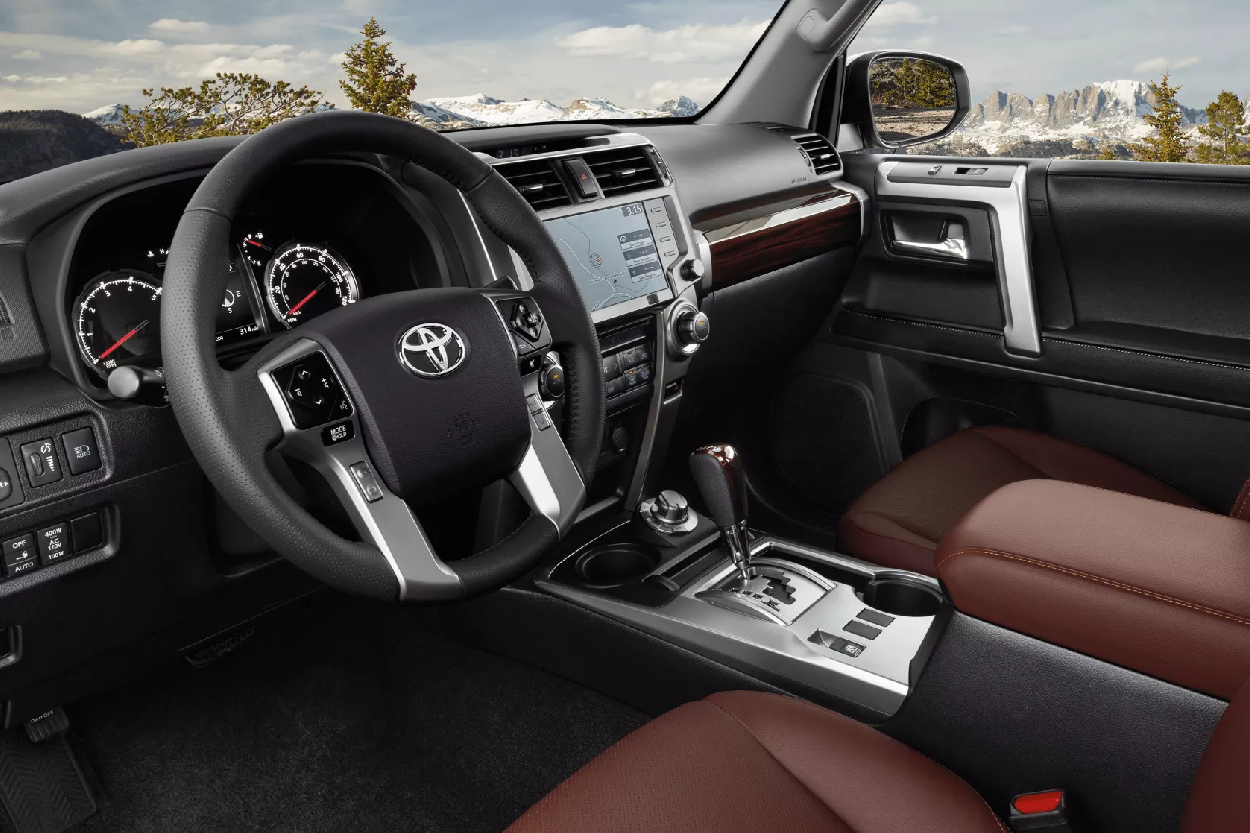 Moving on to the 4runner, the front seats are fabric-trimmed with a 4-way adjustable passenger front seat. The driver's seat is an 8-way adjustable power seat featuring power lumbar support. Also, the front passenger and driver's headrest come with TRD red lettering.
The 4runner's telescopic steering wheel has a Bluetooth hands-free phone with voice command control. Its multimedia system features an 8-inch touchscreen with 8 speakers. Like the Grand Cherokee, it also has Android Auto and Apple Car-play.
Price
Although the prices depend on several factors, the Toyota 4runner is more expensive than the Jeep Grand Cherokee. However, this is by no means shocking. The 4runner is one of the most expensive SUVs of its class and has maintained that status for several years.
Over the years, 4runners have proven to be the more reliable SUV with better off-road capabilities compared to its rivals. There's also a higher demand for 4runners which understandably spikes up the price in the second-hand market.
While this might be a sticking point for some buyers, it's not expected to deter traditional 4runner enthusiasts.
---
Sum up
The Jeep Grand Cherokee and Toyota 4runner are two excellent SUVs that provide great off-the-road capabilities. If you're looking for a rugged vehicle, either of these two would do.
However, the Grand Cherokee features a bit more tech while the 4runner is more reliable with better off-road capabilities. In the end, it all comes down to your preferences.