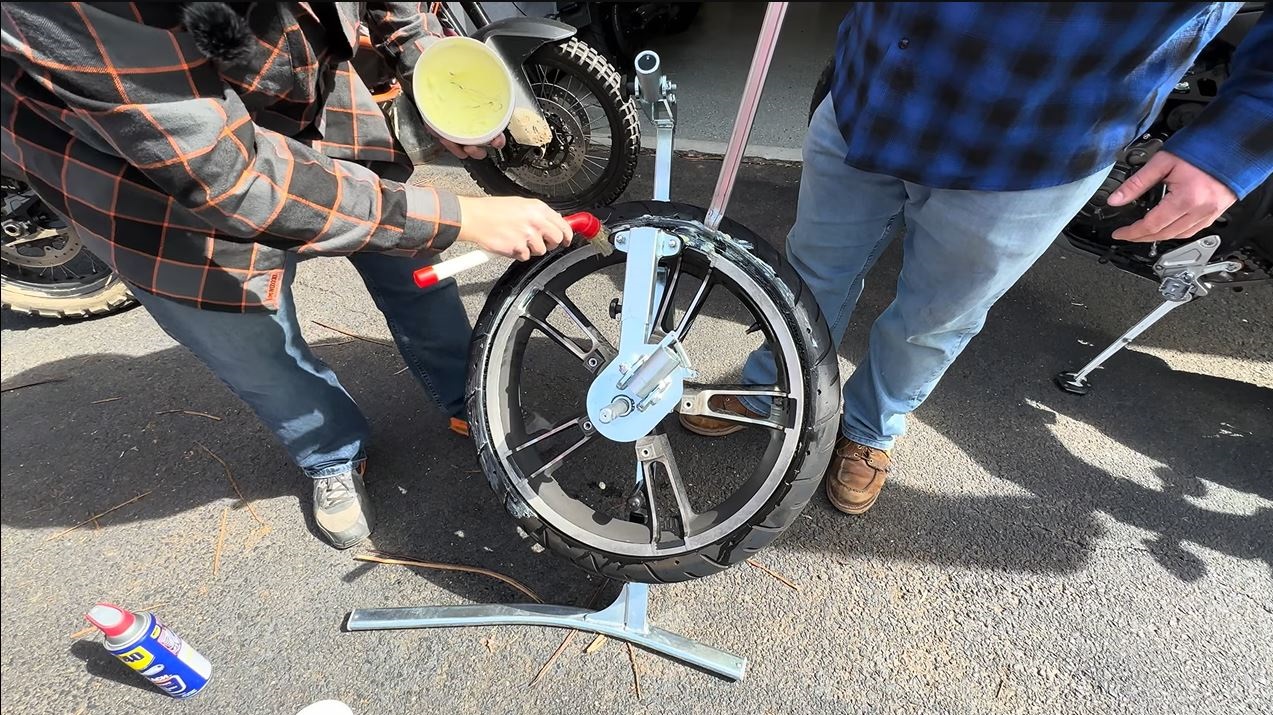 Walmart is a place where you'll find 99% of the things required in your whole lifetime. Being one of the largest retailers, this place offers several services besides selling products.
Among the services available in Walmart, changing vehicle tire is one. However, this has brought several new questions. One of the most asked questions is- does Walmart change motorcycle tires? Bikers ask this question often because motorcycle tires are available there.
I think you have the same question in mind. You'll get the answer soon.
Instead of just answering the question, I've tried to discuss everything so that you can reach a conclusion.
Does Walmart Change Motorcycle Tires?
I had the same question in mind. I searched online and found some websites saying Walmart changes motorcycle tires, whereas others say that such a service is not available. Thus, the situation was confusing. So, I decided to dig deeper.
I've checked the Walmart website for the answer to this question. Entering the website, I clicked the 'Services' button and selected 'Auto Care Center Service'. Walmart offers tire-related services through its Auto Care Centers (ACCs). That's why I picked the option.
Then I clicked on 'Buy Tires and Schedule Installation'. This took me to the page that allows the visitors to pick their expected tire.
On that page, Motorcycle was not in the selected filters. Thus, I think Walmart doesn't change motorcycle tires.
To have a better idea, I checked the 'Services and Pricing' page under the 'Auto Care Center Service' button. But I didn't find any specific option for motorcycles.
Thus, I concluded that Walmart doesn't change motorcycle tires.
However, I've seen a lot of websites saying that Walmart Auto Care Centers change motorcycle tires. In that case, the possible case is that some ACCs offer motorcycle tire changing services, whereas others don't.
I think it is better to make a call to Walmart's customer support center directly and ask whether such a service is available in your specific location. Doing this will help you find the exact answer you're looking for.
The Probable Cost to Change Motorcycle Tire in Walmart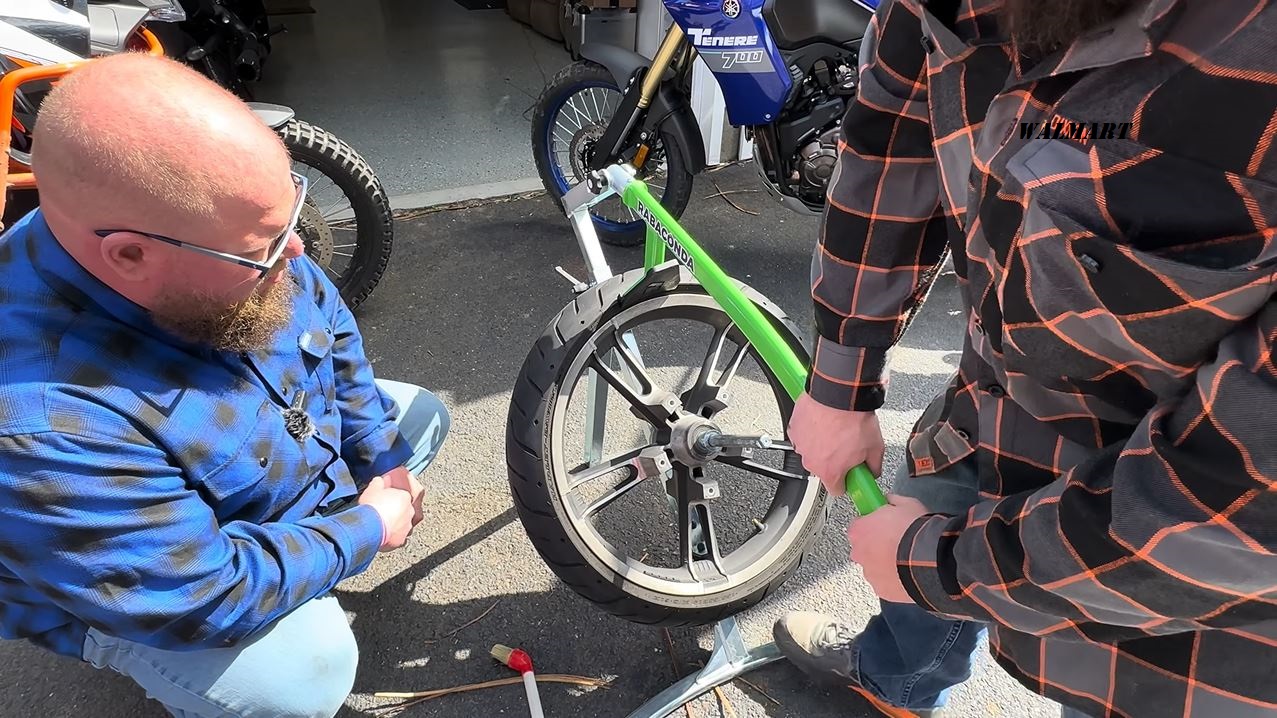 Typically, Walmart charges $11-$15 per tire for changing tires.
For motorcycle tires, this can be different as the process is different. Also, changing motorcycle tires requires different special tools. Thus, you can expect the cost to be around $20-$25 per tire if you get it from them. It shouldn't be more than that.
Walmart Tire-related Services
Walmart offers several services related to tires. Among them, tire mounting is the most common service. It costs around $11, and you should get the tire from them.
Other services are-
Tubeless flat tire repair- $15 per tire
Tire rotation- $5 per tire
Tire rotation/balance (lifetime)- $15 per tire
Road-hazard Warranty- $10 per tire
Valve stem installation- $3 per tire
Lug nut replacement- $3.50 per lug nut
Besides these, Walmart offers TPMS re-learn and 50-mile re-torque for free.
However, according to my observation, none of the services are for motorcycles. To be sure, you must call the customer care center directly and discuss this.
Walmart Alternative to Change Your Motorcycle Tire
1. Authorized Dealerships
There should be an authorized dealer for your motorcycle brand around you. Authorized dealers are motorcycle shops accredited by a specific brand to sell and repair their motorcycles. They fulfill some specific conditions for this status, including high-quality service.
Thus, you can go to the authorized dealer to change your tires. Being authorized by the brand, they must have experts who can change the tires perfectly.
However, changing tires from authorized dealerships is expensive. They charge premium prices because of their vehicle-specific expertise and premium service quality. The typical cost to change motorcycle tires in an authorized dealership is around $40-$100, based on several factors.
2. Local Auto Shops
Local auto shops also provide tire-changing services for motorcycles. You can go to them too. For an uncommon model, they may not have any expert mechanics. Thus, they may face hardship to change the tire and charge more.
However, for any common model, there is a huge chance that you'll get an expert who'll do this perfectly within a short time.
Changing tires in local auto shops is a bit less expensive compared to authorized dealers. You need to spend around $20-$80 for each tire. Depending on the related factors, the cost can exceed the limit.
The problem with replacing tires in local shops is the unavailability of expertise, especially when you have a special or rare model.
Ask bikers around you for recommendations. Looking for suggestions about local auto shops from someone riding a similar model is the best thing you can do.
3. Gas Stations
Not all gas stations have tools to replace motorcycle tires, but some have. You should check gas stations around you to know if they offer such a service. The cost of changing tires in gas stations is similar to the amount charged by local auto shops. So, this can be a good option.
However, mechanics working at gas stations may not have the expertise to change motorcycle tires. So, it is better to go to gas stations only when someone recommends after getting a satisfactory service.
Going to a random gas station and asking to change tires may not always bring a good result.
5. Doing It Yourself
You can change the tires by yourself. This may seem tough in the first few times. But with time, you'll be an expert.
The best thing about changing the tires by yourself is you don't need to visit the repair shop. Also, you don't need to pay the mechanic. Thus, you can save time and money.
How to Change Motorcycle Tires at Home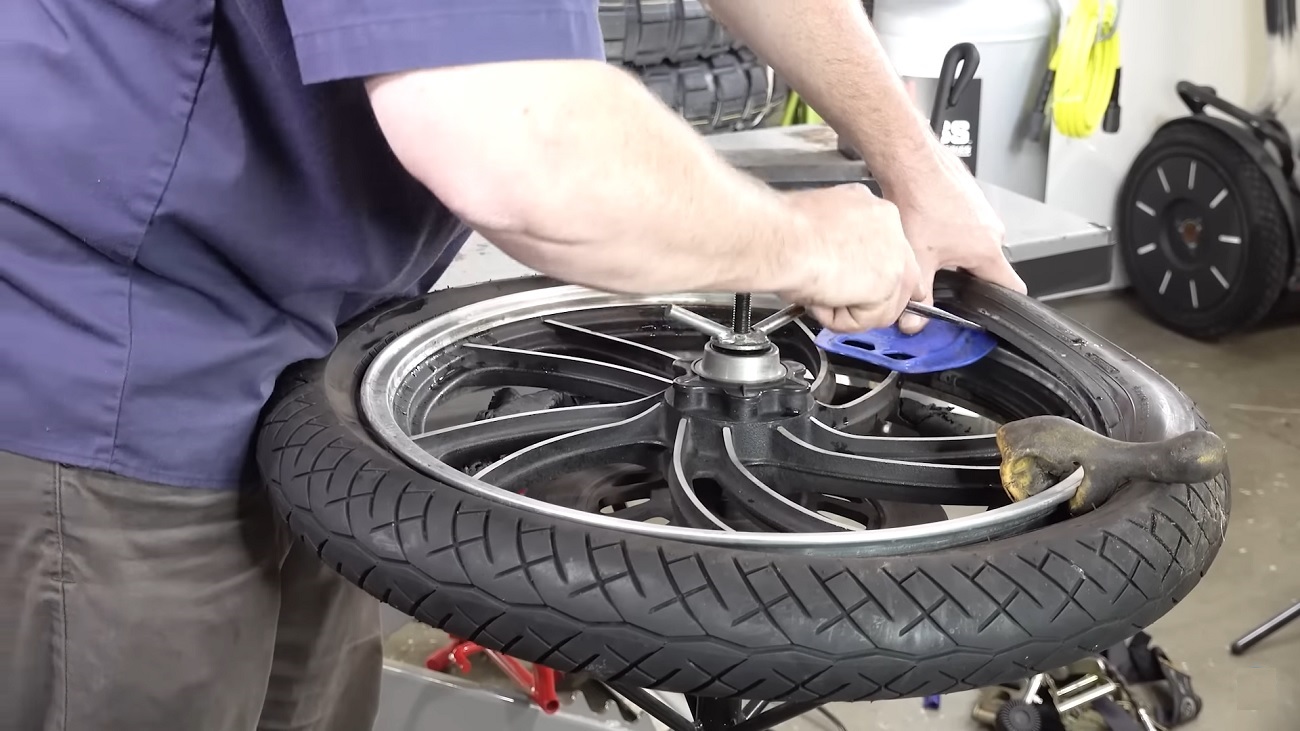 If you want to change tires at home, here is the process to do that.
Step 1- Getting the wheel
First, detach the wheel from the motorcycle. Place it on a stand so that your target wheel remains off the ground.
If it is the front wheel, loosen the front clamp first. Then, remove the brake caliper and axle nut. Finally, slide out the front axle and get the wheel.
In the case of the rear wheel, remove the axle nut and loosen the chain adjuster. Then, remove the chain. Finally, get rid of the axle and get the wheel out.
Step 2- Removing the old tire
Deflate the tire first. Then, break the bead using a bead breaker. It can be done with tire irons too. Even you can use your heel for this.
Use a tire iron to bring out a part of the tire first. Once a portion is out, keep the iron as it is to hold it. Then, use another tire iron to bring out another portion. Now, Try to slide the iron following the perimeter to bring out one side of the tire.
Flip the rim, and follow the same way to bring out another side.
Step 3- Installing the new tire
Spray some lubricant on the sides of the new tire first. A 50/50 mix of dish soap and warm water is a great lubricant. Also, you can pick spray-on silicone lubricant or Windex.
Ensure the rotation markers on both the tire and the rim are in the same direction. Put the tire on the ground and place the rim inside it. Now, push the sidewall inside the lip of the rim. Use tire irons for this. Spray lubricants frequently.
Once done, flip it and follow the same process. Once you get the flow, the rest is easy.
Make sure that the tire is placed properly. Then, inflate it again. Check for any scratches or leakage. If things are okay, install the wheel accordingly.
Frequently Asked Questions (FAQ)
How long does it take to change motorcycle tires?
This process may take around 20 minutes to 3 hours, based on the situation. If the bike is packed with additional components, it takes a long time. Also, changing the tires of large bikes like cruisers or tourers needs time. On the other hand, street bikes or small motorcycles take around 20-50 minutes.
It also depends on the expertise of the mechanic. Expert mechanics take way less time compared to a newbie.
What type of motorcycle tires does Walmart install?
The Walmart ACCs that install motorcycle tires are open to the maximum types of motorcycles and tires. You'll find the opportunity for several types of bikes, including street, touring, dirt bikes, cruisers, etc. However, the availability may vary based on the location and the expertise of the mechanics.
What tools do I need to remove a motorcycle tire?
The most common tools for this task are a bead breaker and at least two tire irons. They are enough to remove a tire. I've already discussed the process above.
But if you want to make the process easier, you'll need a few other tools. A valve stem remover is a helpful tool in this process. Also, a spray-on silicone lubricant can help you a lot. You can use Windex or soap-water instead of the lubricant.
Also, rim protectors are essential in some cases.
How often should I change motorcycle tires?
If you ride it daily, you must change the tires after six months. Get them checked by a professional, even if they look good.
If you're an occasional rider, chancing tires once a year is okay.
---
How to Change and Balance Motorcycle Tires 
---
Final Verdict
Does Walmart change motorcycle tires? I don't think so. I've already shared the reason behind it.
The best way to know this is by communicating with Walmart directly. This will help you know if any Walmart ACC can change your motorcycle's tires.
If not, don't worry. I've shared several ways to get it done. Even you can do it yourself. You'll find it tough on the first attempt but learn to do it perfectly with time. This way, you can save some bucks too.