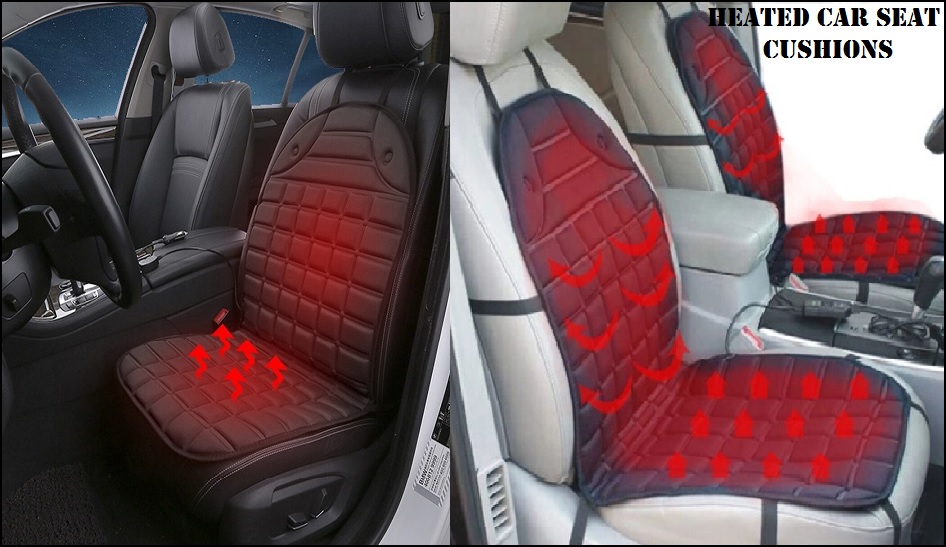 When your body is terribly sensitive to cold, a heated seat cushion for your car is not a luxury anymore. To help you get a great deal in purchasing a comfortable, strong, and safe product we are here with our list of the best heated seat cushions for your car review and buying guide with all the necessary information.
A cozy soft cushion for you when you are freezing in the cold is a real blessing. But there are so many seat cushions nowadays for different purposes that you need expert guidance for a good purchase.
People are buying massage cushions, cooling cushions, and many other heated comfort products for wintry weather. But for your seat cushions, two most important things to check beforehand are safety and temperature setting along with the material quality of the fabric. So let's check out the products!
Top Rated Heated Car Seat Cushion Comparison Table
Image
Product
Features
Price
HealthMate IN9438 12V Seat Cushion

High/low/off temperature control
Fuse: 8A 
Secure Strapping System
Material: Polyurethane foam
Folds Flat for Storage

Check on Amazon
Kingleting Warmer Seat Cushion

Material: Polyurethane
Highest temperature: 60 ℃
Intelligent
Non-slip rubbers on the bottom
30s heating time

Check on Amazon
Comfier Massage Seat Cushion

10 strong massage motors
overheating protection system
Effective for 12V cars 
Material: Ultra-plush soft polyester

Check on Amazon
Sojoy Winter Foam Car Seat Cushion

Highest temperature- 118 degrees F
Current: 4amps, power: 48 Watts
Breathable soft polyester fabric
Overheating protection technology

Check on Amazon
---
Top 7 Best Heated Seat Cushions for Your Car Review
1. Healthmate IN9438 Velour 12V Heated Seat Cushion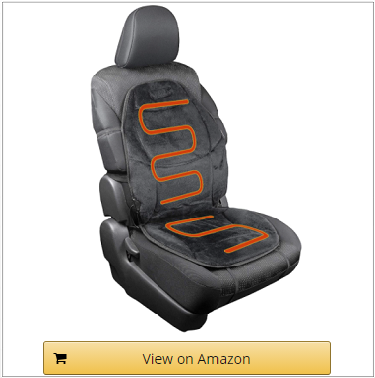 One of the most popular choices for seat cushions in the US, this product from Healthmate has stayed at the top of the popular list for a long time.
The seat cushions are covered in soft velour to provide the smoothest comfort to your back. The softness is unbeatable and yet extremely durable. This ultra-plush heated seat cushion also offers lumbar support.  To relax your tired and sore muscles this cushion will feel heavenly.
What makes the product extra-ordinary is its extra soft texture and heating elements. When you are driving in cold dry morning weather the cushion makes a perfect accessory.
With its easy and flexible controlling process, the product is effortless to use. You can find the right temperature with high and low heat settings to keep yourself toasty warm.
Another comforting feature of this product is how easy-going the process of its plugging and unplugging is.
Attached to the soft velour heated seat cushion are two elastic straps on the back, and four elastic cinch loops along the bottom. Simply slide the two back straps over the chair and then secure the four cinch loops to the bottom of the chair to prevent the cushion from moving.
Pros
Comfortable and soft material.
DC plug is a universal fit for most cars, SUVs, trucks, and boats.
High/low/off temperature controlling system.
Soothes and relaxes tense muscles.
Increases blood circulation.
Great for lumber support.
Easy to use in-line controller.
Cons
The seat cushion is "low duty" and wouldn't probably last very long with contractors or frequent use.
---
2. Kingleting Warmer Seat Cushion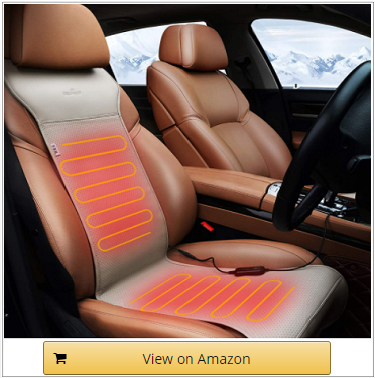 Another quality product from a trustworthy manufacturer is the Kingleting Warmer Seat Cushion. The biggest strength of this product is technical richness and excellent design.
The cushions are equipped with a fixed hook for the bottom of the seat and strong strap for the head of the seat and a controller interface that can be used on both sides.
Polyurethane is used as the principal material for the cushions. There are holes on the surface for dense heat conduction. Advanced texture and non-slip rubber buttons make the cushion even more comfortable and safer than other products.
The temperature reaches to peak in 1 minute only. The highest limit of temperature is 140F. So if you want instant coziness in a freezing morning this cushion can bring that for you.
The timing power-off protection mechanism gives you three choices: 30, 60, and 90 minutes for timing protection to save the battery from draining. The cushions are designed to stop at your selected temperature and automatically raise the heat up after it has been cooled down.
Related Post: Jeep Grand Cherokee Roof Rack Review
Pros
Includes protection thermostat to avoid overheating and accidents.
Maximum and minimum temperatures of 86-140 degrees Fahrenheit (30-60) ℃ can be chosen every 3℃.
Keep warm in winter and promote blood circulation.
Suitable for most standard-size cars – SUVs, RVs, etc.
Built-in intelligent temperature controller.
Relieves fatigue and relaxes muscles.
Cigar lighter does have a short-circuit protection function.
Cons
The cushion is not wide enough for some users.
---
3. Comfier Massage Seat Cushion with Heat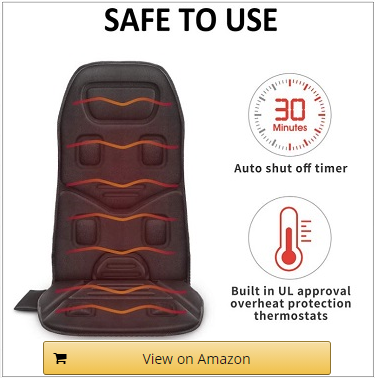 This massage cushion is another wonderful edition from the legendary house of Comfier. Along with the heating facility, this cushion provides a user vibration massage to your tired, fatigued muscles.
The cushion is equipped with 10 powerful vibrating massage motors along with a heating function. The best thing about this cushion is, it not only soothes your upper and lower back, shoulder, and seat with 4 vibration massage area but also let you choose the massage area of your choice.
Each massage region can be turned on or off as desired for any combination of regions. There are 5 modes of massaging – pulsate, tapping, rolling, auto, and kneading.
Many customers have reported that massage cushions have lessened their suffering from back pain. The terms that they used to describe it were "finally some lower back relief" and "your personal masseuse".
If you are unlikely to enjoy a journey in chilling weather because of your sore muscles then this cushion is made for you. Your back, neck, shoulder, and thighs will receive stress-relieving massage and at the same time, your back will enjoy the coziness and warmth of the cushions.
Three heating pads for the full back and seat area come with these cushions. This heat has a therapeutic effect on your body. To save you from any accidents, the auto shut-off timer turns it off after 30 minutes. Just like other Comfier cushions it also includes a rigorously tested overheat protection thermostat.
Pros
The comforting, relaxing massage provides relief from tensed and pained muscles.
Fast heating up service. Take 1 minute to get heated up.
All-inclusive 5 programmed modes and three variable massage intensities.
100% soft polyester.
Exquisite hemming.
Easy to install and use.
2 – Heat levels.
4 vibration massage areas – neck/shoulder massage, lower back massage and upper back massage, and hips or thigh massage.
Includes a vibration massage cushion, home adapter, user manual, and packing box.
---
4. Sojoy Winter Foam Car Seat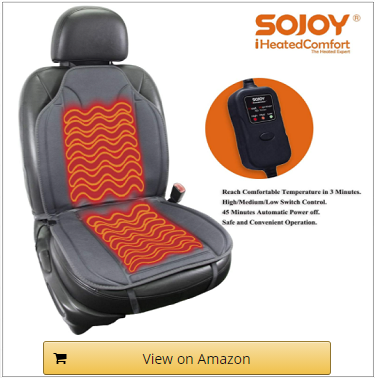 Sometimes, the manufacturing house is so renowned that our customers don't even ask any questions before purchasing. Sojoy is one of those few brands and it will be a blunder if we don't add this to our list of top the best-heated car seat cushions.
A newer version of the cushion from the famous house of Sojoy comes with extra safety arrangements and unique temperature control.  A protection thermostat is adjoined with the cushion to protect the cushion from overheating.
You can choose your preferred temperature and after the cushion reaches that level, heating will stop automatically. For the rest of the journey, the temperature will remain the same. When the temperature goes down, the heater will manage to rise the heat up again.
Usually, the cushion takes only 3 minutes to get completely warm. It provides coziness for all the body parts equally-full-back, hip, and thighs. Even in the coldest weather, this seat cushion can make your journey comfortable. 60 degrees C is the highest temperature that it is able to adjust to.
If you are forgetful about small things and keep forgetting to turn off the switch, don't panic. Timing power-off protection will provide you with time choices in every 45 minutes to avoid battery draining.
Pros
Foam stuffing is used as a material along with polyester.
Warm, soft, and comfortable sitting feeling in cold weather.
Universal fit and easily portable.
Comes with a temperature controller to choose between high, mid, or low temperatures.
Equipped with non-slip rubbers on the bottom and designed with elastic bands to keep the cushion tightly fastened to the seat.
Less expensive than other options available in the market.
Hook and loop fastener 12V connected with LED operation indicator.
Cons
Sometimes, the seat gets very warm but not the back portion of the cushion, making it uncomfortable.
---
5. Sojoy 12V Car Seat Cushion Warmer (Grey)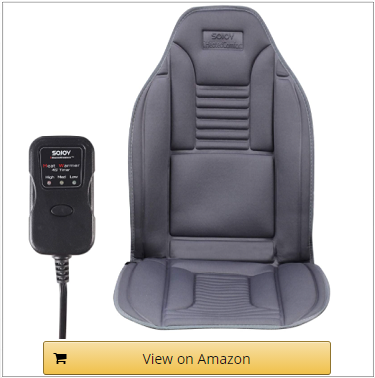 Another masterpiece from the house of Sojoy, this model with black-colored cushion is equipped with all the extra safety cautions. This cushion aims not only for instant warmth but also for the comfort of muscles. The price of this edition is a little bit more than the other one on our list.
This model is specially designed to provide comfort and relief to your stiff muscles and comfort your muscle pain. Enhancing blood circulation is another comfort that this product will offer.
The heated cushions not only provide comfort to your muscles but also ensure safety. The seat cushions are designed to protect it from overheating. Overheating protection systems and heating pads with auto shut-off functions are there for tight security.
Made with 100% ultra cozy breathable comfortable polyester fabric, the cushions will make your body feel like it is touching something heavenly. Just in one minute, the cushion gets heated up and you start feeling that warmth in your back and seat.
Pros
High-quality fleece around you with a soft, comfortable, and warm feeling.
Built-in overheat protection thermostats.
Equipped with elastic bands.
Uses anti-slip rubber on the bottom.
High, medium, or low switch control.
After 45 minutes the power turns itself off automatically.
The maximum heating temperature level is 60 degrees Celsius (118 degree F).
Safe and convenient operation.
Even heat distribution.
Cons
For some users the cushions are too narrow.
---
5. Comfier CF- 2613 Heated Car Seat Cushion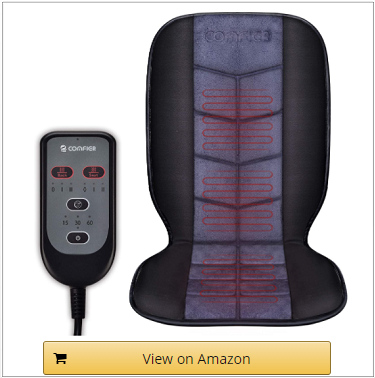 If you are looking for a newer product with extremely advanced technologies to ensure your comfort in a smart way then products from Comfier is your answer. This universal fit seat cushion is designed with intelligent equipment and adorned with quality material.
Traditionally heated seat cushions take at least 5-6 minutes to warm it up. But this cushion from Comfier will start giving you the feeling of heat in just one minute. The cushion is designed with 3 heating pads in the back and sitting area. Two heating levels on two heating zones ensure a quick warm-up in 1-3 minutes.
To ensure your comfort this cushion is covered with incomparably soft polyester. Faux Suede is combined with optics ultra soft plush on the top of the cushion. The padding is made of high-density foam as well. The coziness of the cushion is comforting and long-lasting.
The cushion, though primarily designed as an office chair, comes for both a home adaptor and a car adaptor. The size fits most of the cars, trucks, and SUVs.
To secure any seat type the cushion comes with straps. These adjustable dual straps ensure the safety of passengers and keep the seat secured and keep in place.
Pros
The heating on the back or seat can be turned on independently.
Comes with built-in UL approval and an overheat protection thermostat.
Auto shut-off timer included.
Non-slip rubber bottom for security.
Provides warmth for the full-back, hip, and thighs.
The highest level of warmth is 131 degree F and the lowest level is 114 degree F.
Anti-skidding fabric cover.
For the auto shut-off function, the default timing is 60 minutes though you can set the time for 15 or 30 or 60 minutes.
Cons
The cushion lacks a strap or clip to keep the front tight.
---
7. Eluto Heated Seat Cushion for Car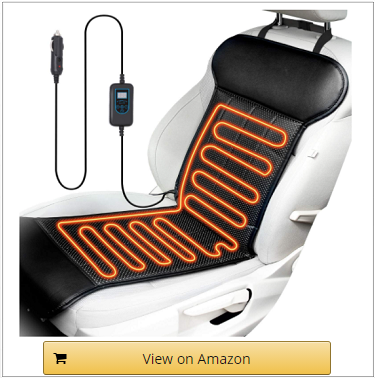 A rare product in the market with all the rare qualities, that provides superfast warmth to your body—that's how we describe Eluto Heated Car Seat Cushion.
The product is different in many ways from the other products in the market. First of all the material used here is superior-quality PU leather. It is used in order to achieve a better heat dissipation effect.
Because of the heat dissipation effect along with a flame retardant standard sponge, the cushions can ensure more impactful and secure use of electricity. The cushion gets heated up in just 30 seconds, which is a record. The customers always keep describing how the cushion "heats up literally in no time".
The cushion is smartly equipped with a precise temperature and timing control system. To lower the temperature you are supposed to click the "-" sign and the opposite to bring the temperature to a higher note. The adjustment of temperature ranges between 40℃ to 70 ℃.
In case you forget to turn off the switch, you will be reminded of that every 30-minute and 90-minute interval. You can freely choose a temperature from 70 to 150 °F, every 1°F.
Along with all these smart technologies the structure of the cushions are also quite well-designed. Elastic webbing and a buckle give the head its strength and a metal hook is there to fixate the bottom.
Pros
Great for most of the DC12V cars in the market.
Non-slip anchors are inserted into the seat gap.
Excellent timing and temperature control.
Ideal for any seats with raised sides.
Timing power-off protection – 30-90 minutes.
CE ROHS certified.
Cigarette lighter with 10A fuse to avoid any accidents.
Cons
The cushion is narrow and covers only half of the seat.
---
Best Heated Seat Cushion for Your Car Buying Guide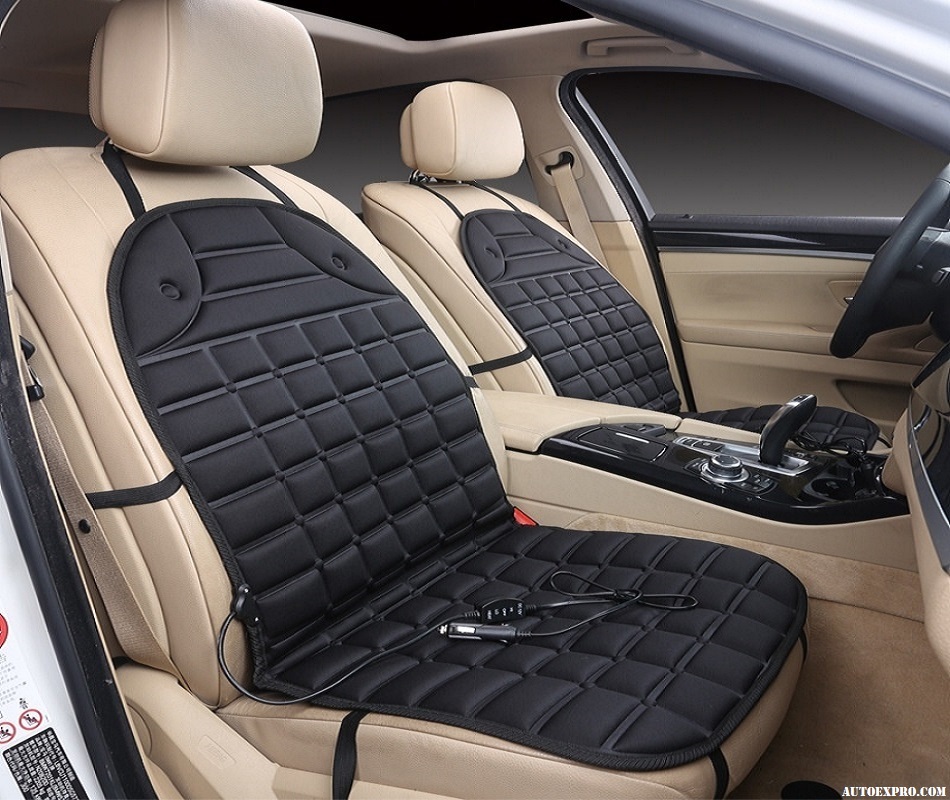 People make a mistake while buying luxury items – not doing proper full-pledged research. When you are buying something like a heated seat cushion, you must remember that the product deals with electricity, and the comfort of your body directly is related to its quality.
So the most important factors that determine the quality of a heated seat cushion are its structure, temperature-controlling capability, safety arrangements, etc. Here we present our detailed buying tips for the best heated car seat cover cushions so that you can make a wise decision about your desired product.
First of all, heated seat cushions are for individuals living in extremely cold geographical areas. There are many options of cooling chairs, massage chairs heated chairs for office use, etc. So choose wisely and check if the cushion is fit for your car.
When you are going for long distances you can depend on a cushion that heats up in 5-6 minutes. But if your day-to-day journey is of short distance root then go for something that can instantly warm up your back in that severe cold.
A crucial thing you may need to check before purchasing the cushions is its technical setting for temperature control. There should be easy ways for you to set the temperature level according to your choice. It should always be you who decides the warmth of the cushions.
The product should be technically smart enough to be able to keep the safety arrangements intact. Usually renowned brands design their products with an in-built protection system to avoid overheating. Timing power-off protection is also a must for seat cushions.
The cushion you want to purchase should be wide, strong, and soft enough to provide you with the desired amount of comfort. Most importantly you may need to check the material quality of the leather or polyester used to make the outer layer of the cushion and the quality of the foam cushion is made with.
The fabric with which the cushions are made must be capable enough to withstand the heat. In this matter, you cannot rely on the low-quality products.
---
Heated Car Seat Cover Cushion Video Review
---
FAQs About Heated Car Seat Cushions
How much does a quality heated car seat cushion cost?
In spite of being a luxury product, heated seat cushion doesn't attack your pocket mercilessly. Usually, it costs $20-$50, but most of the quality seat cushions from famous brands come in $25-$40 approximately.
Do heated car seat cushions have massage features?
Yes, some of the car seat cushions are designed with massage features. Massaging facility helps your body to get rid of any kind of muscle pain or sore muscles. The blood circulation process of your body can also receive some positive impacts from this.
How do the cushions prevent overheating?
As the car seats keep getting heated for a long time during your journey, a fire mishap can be the most obvious result. But to avoid any such dangerous accident, the cushions are designed with an overheating protection mechanism. Usually, a thermostat is there to fulfill this job.
After the cushion reaches the temperature, the thermostat signals the remote control or relay to stop heating. After the cooling process is successful, the thermostat starts its work again. This process goes on in a constant mode during your journey to keep you both warm and safe.
What can I cover the heated cushions with?
Without removing the thermostat you can cover the heated seat cushion of your car with various kinds of materials. You can use Neoprene as seat cover material which has two layers of polyester and a combination of foam and Neoprene in the middle of them.
But if this kind of prefabricated cover is unavailable you can make covers with flame-retardant materials.
Do I need a professional mechanic to install a seat cover?
The seat cushions are generally easy to install. But as the process deals with electric hardware and demands a number of tools and includes the drilling process, it is better to hire a mechanic.
The process incorporates a lot of effort and expertise. So if you have got a new car and are completely inexperienced then taking the help of a mechanic is a wise decision.
---
The Mechanism Behind Heated Car Seat Cushions
While using such a technically advanced product you may sometimes wonder about the working mechanisms behind its technology.
The mechanism that works behind heated car seats is the use of resistors under the cushions which makes them different from normal car seats. The wires or resistors installed under the cushions resist the flow of electricity to create friction which produces the necessary heat.
A long strip of material works as a resistor here; the flow of electricity is resisted, and the energy turns into heat eventually in the process. The heat stays balanced and you enjoy a comfortable journey even in freezing cold.
Safety Tips While Using Heated Seat Cushion for Car
During use, any instance of overheating of seat cushions can lead to burn accidents, and sometimes that leads to third-degree burns. To avoid any malfunction of that kind you must follow some safety tips always –
Always purchase products that contain an overheating protection system.
Concerned car safety advocate groups suggest that the maximum temperature of cushions should not exceed 105 degrees Fahrenheit.
Always make sure that no fraying wire is found in the insulation.
During your journey whenever you feel like the cushion is getting overtly heated or the protection system is not working, turn off the connection immediately.
---
How to Install Heated Seat Cushion for Car (DIY Video)
---
Final Verdict
If you can follow the necessary cautions properly, then heated seat cushions can be a source of great comfort for you. All the products reviewed in our list of the Best heated seat cushions for your car are trustworthy, technically excellent, and great for your muscle health.
Purchase products following all the precautions and remember all the buying tips we suggested. Don't let your comfort cushion be the reason for any hazardous accident. Hope you make your early morning wintry journey a cozy and pleasant one with our recommended cushions.