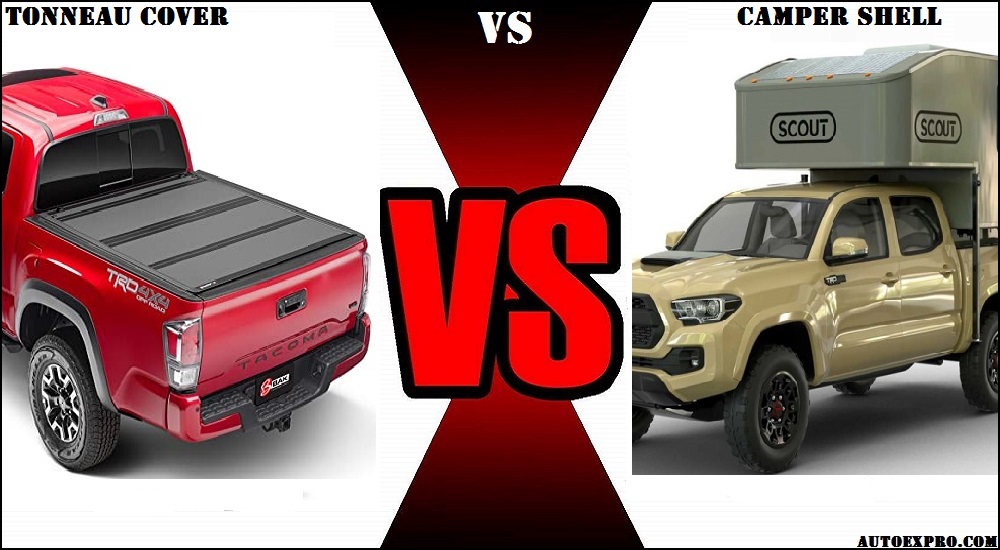 After having a pickup truck, the first upgrade that most people think of is a cover for protecting the things carried on the truck bed. There are several options in the market. Tonneau cover and camper shell are the most common of those. So, people often get confused between these.
I know you're in the same confusion and that's what brings you're here. Don't worry because I'm going to talk about tonneau cover vs camper shell.
In this comparison, I would talk about both and compare these in several aspects. The comparison is made after thorough research and information from the users. As a result, you'll get the scope of comparing these two from several points noted by the users and make a choice easily.
Let's jump into the comparison without talking much. But before that, let me talk a bit about what are tonneau cover and camper shell are.
What is a Tonneau Cover?
The tonneau cover is a cover for the truck bed that allows you to keep the things on the bed secured without compromising the aerodynamics. It is installed at a similar height or a bit higher compared to the side panels. Thus it doesn't have any impact on the height of the truck.
There are several types of tonneau covers. You'll find soft and hard both types of covers with different options like- roll-up, folding, retractable, etc. So, when you're picking a tonneau cover, you'll have a lot of options.
What is a Camper Shell?
Camper shell has many names including- truck cap, canopy, truck topper, etc. It is a hard shell that sits on the side rails of your truck bed. The top of it typically exceeds or sometimes matches the top of the truck cab. Thus it allows you to store a lot of things on the bed.
It is also used for protection because most camper shells are made of aluminum or fiberglass. Sometimes you'll see canvas shells but those are rare. Also, you may find some wooden camper shells. However, these are rare nowadays.
Typically camper shells have windows for maximum visibility inside.
Tonneau Cover vs Camper Shell: Head-to-Head Comparison
Material
From the point of the material, the tonneau cover allows you to have more options. You'll find covers made of vinyl, canvas, fabric, aluminum, fiberglass, steel, etc. Also, you'll find tonneau covers made of multiple materials.
On the other hand, most camper shells are constructed using fiberglass or aluminum. There are some shells made using canvas. So, options are limited here.
Installation
While talking about the installation process, I prefer tonneau cover over camper shell. The reason is the ease of installation.
Almost all the tonneau covers allow you to get the installation done without putting in too much effort. One person is enough to install these. Besides, many tonneau covers come with a tool-free installation feature.
On the other hand, installing a camper shell is a hassle, especially when someone is doing it alone. It is very tough to handle this thing alone. Even when you have someone to help with the process, you both will have to put huge effort.
The same goes for uninstalling. Tonneau cover offers a more effortless uninstallation process compared to a camper shell.
Outlook
The outlook of the truck is important to most truck owners. That's why this is a crucial point in our discussion.
Typically, a tonneau cover ensures a sleek look of the truck because of where it sits. So, by installing a tonneau cover, you won't see much difference in the truck.
But, in the case of camper shell, the look of your truck changes completely. This is huge. Till the color matches properly, I think the outlook is not a big deal.
Still, the winner is tonneau cover at this point.
Durability
From the point of durability, both tonneau cover and camper shell are winners. Both of these are huge investments for truck owners. This is the reason these are made to be durable.
Tonneau covers are made durable using corrosion-free material, and the design that ensures less stress on the cover.
On the other hand, camper shells are durable because of the strong materials that are used to build these.
Security
While talking about security, camper shell is the winner here probably.
As a camper shell is made of strong materials like aluminum and fiberglass, it is tough for thieves to break into it. So, your things are safe inside.
On the other hand, in the case of tonneau covers made of vinyl, fabric, or canvas, it is very easy to steal the things inside. But when it is made of strong materials like aluminum, steel, or fiberglass, it is safe.
Protection from Weather
Weather protection is a crucial thing. In this case, I think both have similar capabilities.
When it is about tonneau cover, it can keep your truck bed safe from rain, snowfall, dust, and other environmental factors. In the case of soft covers, heavy snowfall might affect somehow.
Similarly, a camper shell also saves your truck bed from all types of environmental factors. However, as it comes with windows, I think proper safety from sunlight is not possible in a camper shell.
My observation about protection from rain says that nothing can ensure a hundred percent protection from rainwater. These must be some weak points through which rainwater can penetrate the truck bed, especially in heavy rainfall. But the amount of water penetration is not alarming in most cases.
Storage Space
When it is about storage space, the camper shell is the winner.
As a camper shell reaches to or exceeds the height of the cad, you'll find large storage where you can store a lot of things.
On the other hand, the tonneau cover doesn't allow you to get such huge storing space as it stays at a similar height to the side panels.
Fuel Economy
The tonneau cover is supposed to improve the fuel economy as it doesn't allow air to get stuck on the bed and the rear panel. Thus it reduces the wind resistance and allows your truck to run a bit extra with a similar amount of fuel.
Most camper shells can't do this. The reason is- these are heavy. Besides, a camper shell with more height than the cab increases the wind resistance. As a result, it decreases fuel economy.
Usage
Though the primary reason behind using these two is the same- keeping the things safely of the truck bed, these two are suitable for different usage.
If you don't have to carry too many things on your truck bed and you want to maintain the sleek look of your truck, you should go for tonneau covers. On the other hand, if you go on frequent camping, fishing, or for other outdoor activities, a camper shell would be the best option for you as it comes with huge storage. You can carry a lot of things when you have camper shell with you.
So, this is the comparison between tonneau cover and camper shell. To me, there is no actual winner. It all depends on why you want to pick one of these two. So, focus on the prime reason behind this upgrade and the things that matter the most to you.
Doing this will help you to easily select one among these two. Thank me later.
---
Best Tonneau Cover in My Opinion in 2022
There are several types of tonneau covers. Soft roll-up, soft folding, hard folding, retractable, and others- there are a lot of options. Focusing on all the aspects, I love hard folding covers that allow access to the full bed. Let me talk about the tonneau cover I suggest to almost everyone.
BAK BAKFlip MX4 Hard Folding Tonneau Cover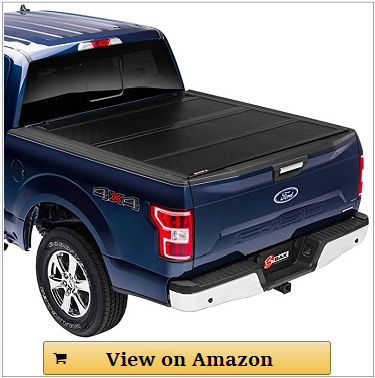 BAKFlip MX4 from BAK is my favorite tonneau cover for several reasons. The first reason is it allows me to get access to the full bed even after being a hard folding cover. It can be kept upright against the cab. Durable prop rods hold it there properly.
Another advantage is- it doesn't cover the third brake light in most models.
It is made of aircraft-grade aluminum sandwich panels to keep it as light as possible. Thus it doesn't affect your fuel efficiency. Also, as it is light, you can install it without putting in much effort.
After installation, it sits parallel to the side panels. Thus it ensures a stylish and sleek look to your truck because of its low-profile design. The matte finish on it ensures a long-lasting premium look.
It is strong enough to save your truck bed from almost all types of environmental elements. Even the case of water penetration is very rare. Besides, it can also carry a huge load on it. If you distribute the weight evenly, it can take up to 400 lbs. without any issue.
Overall, this is an almost perfect tonneau cover that ensures ease-of-using, comfortable installation, maximum protection, and a catchy look. That's why it is at the top of my list of favorites.
Pros
Made with light and strong materials
Sleek, catchy, and premium look
Ensures maximum protection
Let you get access to the full bed
---
Top Reasons to Buy a Truck Tonneau Cover
---
Best Camper Shell in My Opinion in 2022
When it is about camper shells, several things matter including strength, space, and other essential features. Considering these, in my opinion, the best camper shell is the LHR from ATC.
LHR Mid-Rise Truck Cap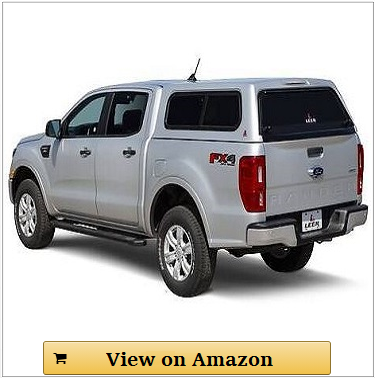 It comes with a heavy-duty rear door that allows you to get easy and quick access to things inside. It is a custom fit. So, no matter which truck you use, it sits perfectly with the tailgate. The windows can be opened by sliding. These oversized windows allow you to have enough inside. The glasses are tinted to make sure that everything is safe from sun rays.
As a mid-rise truck cap, it is a bit higher than the top of the cab. But the aerodynamic design makes sure that it doesn't affect fuel economy. It comes with a third brake light that ensures maximum visibility while braking.
It is made to be sturdy enough to save things from theft. Also, it blocks environmental elements including harmful rays of the sun. The honeycomb reinforced rooftop ensures extra strength and durable protection.
Overall, there are several reasons to love this camper shell. For the price you pay, it is a good deal.
Pros
Huge windows with wide opening
Tinted glass for protection from sun rays
Made to be durable
Worthy deal for the price
---
How to Install a Camper Shell on Truck 
---
Final Verdict
To me, tonneau cover vs. camper shell comparison can't affect the buying decision if you already know the basics of these two. However, still, you might be interested in the comparison and that's why I've talked about these.
In this head-to-head comparison, you've seen that each has its own strong and weak points. So, make a decision depending on your purpose.