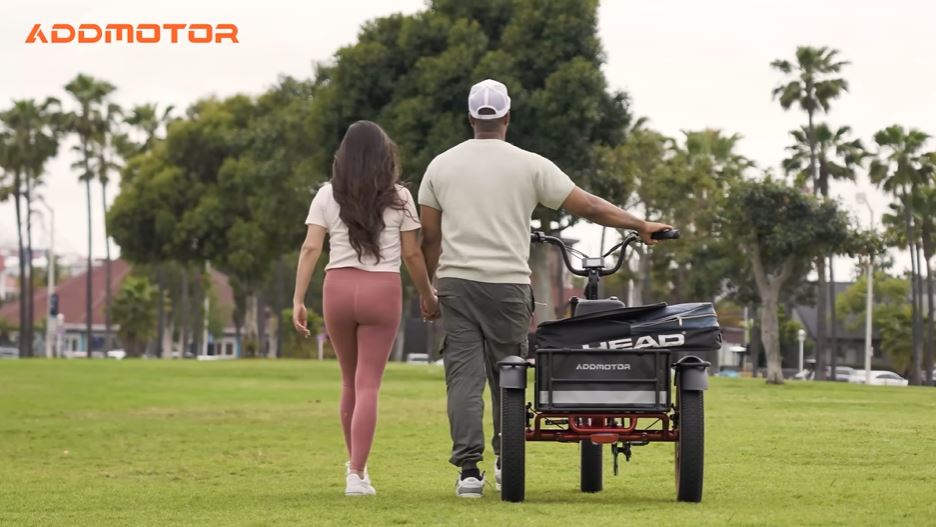 When it comes to the most stable, effortless, and versatile transportation system for people of all ages, etrikes stand at the top. They are an eco-friendly solution that can be used in urban to hilly areas as they serve various purposes.
However, there are only a few Etrike brands that have made such a significant contribution to etrike popularity, and Addmotor is one of them.
Addmotor is the most trusted and reliable name in the e-trike industry for making e-trikes that are worth investing in.
They always focus on quality, top-notch service, and most importantly, customer satisfaction.
In this guide, we have included some of the top-selling Addmotor electric trikes that you can consider as your next trike.
The Evolution of Electric Trike: The Future of Personal Transportation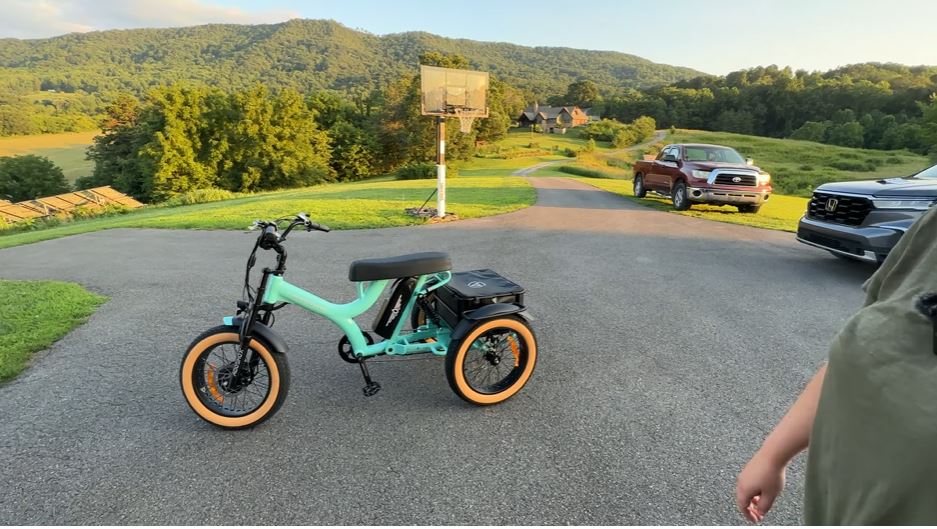 Unlike other personal transportation systems available nowadays, the popularity of electric trikes is growing rapidly. This three-wheel electric motor-powered vehicle makes its place in people's daily lives with its easy usability and versatility.
Even the market is expected to reach the sky, which is nearly $40.83 billion by 2029, according to Maximize Market Research. So if you're thinking about if it's worth it to invest in e-trikes, don't think twice.
As always, there are a few top brands that play a key role in revolutionizing any product, and Etrike is no different.
Reliable brands like Addmotor are one of the top players in electric trikes and have gained massive popularity with their advanced functionality and supreme usability.
It's always recommended to go for top or reliable brands when anyone like you is thinking about getting something new for their usability.
AddMotor's Best Electric Trikes Reviews
As mentioned earlier, Addmotor is one of the top brands that makes top-notch trikes with advanced and enhanced features. And to make things easier for you we've included and reviewed the top three Addmotor adult electric trikes that you can count on:
1. AddMotor ARISETAN M-360 E-Trike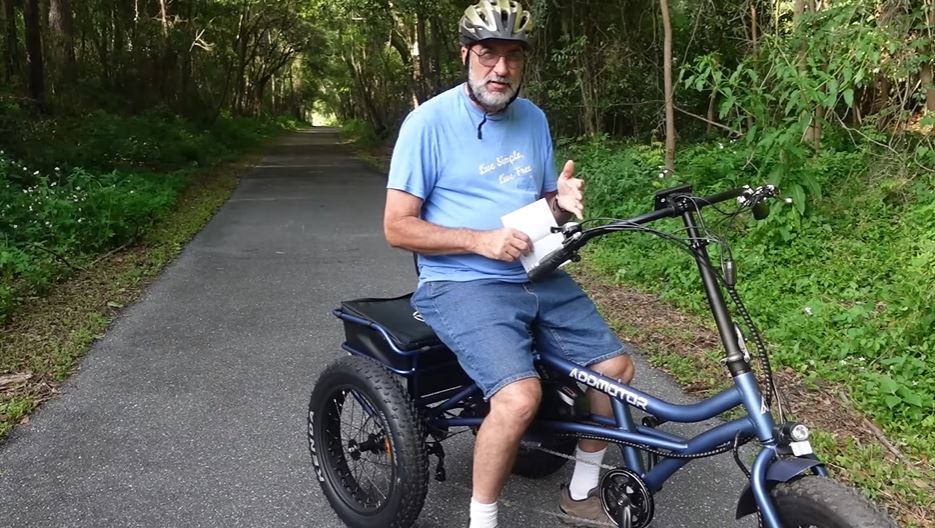 Let's begin with the best Addmotor electric trike for adults, the ARISETAN M-360, which has tons of excellent features. Some of the top features are:
Introducing the world's first semi-recumbent electric trike with triple drive. This awesome three-wheeler is designed for a smooth ride, making it super comfy for cruising on all sorts of terrain, including those sandy beach vibes.
A 48V/20Ah Samsung lithium-ion battery is what you'll find in this M-360 trike, which is great and good enough for urban usability. You can cover up to 85 miles with a single charge.
750W brushless rear-mounted hub motor of the M-360 provides great power for effortless riding in different terrains. This powerful motor can easily handle over 380 pounds of weight and effortlessly climb hilly terrain.
The frame of this trike is made of 7A19 aluminum alloy, which makes it lightweight and easy to handle. Besides being lightweight, this material is super strong and resists water and other environmental conditions.
Don't limit yourself to only riding the trike; you can also use the Addmotor M-360 for your cargo needs too. It has a large rear basket with a storage bag that is capable of holding a decent amount of weight.
2. AddMotor HEROTRI M-365X ETrike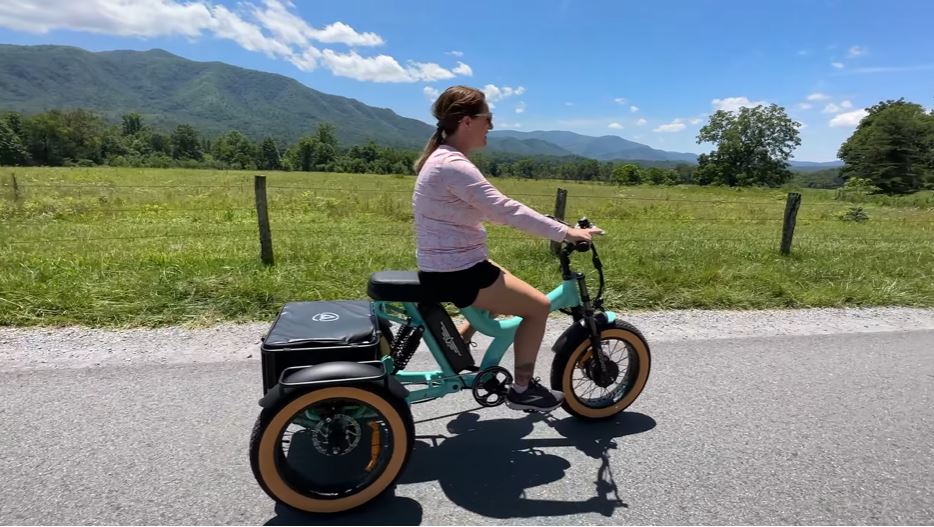 Our next favorite trike is the Addmotor Herotri M-365X. It's a stylish and performance-oriented king trike that is surely worth investing in. Learn more about this trike:
48V/20AH battery and 750W brushless hub motor are what are used in the Herotri M-365X. The combination of both of them will extend your exploration experience. You can travel over 85+ miles with a single charge and can top speed.
Cargo And Dual Seat Options:
Total seat length of 76.7 inches, making it the best electric trike for 2 adults. Plus, the 21" x 17" x 9.8" rear basket lets you carry necessary things as it's capable of handling 100 lbs of weight.
No matter what type of terrain you're riding on, the M-365X gives you maximum comfort with its dual suspension system. The front and rear suspension systems reduce bumps and pothole impacts and ensure enough comfort.
The 5-inch LCD display of the Addmotor Herotri M-365X is going to let you monitor everything while riding your bike. You can see the mileage, speed, battery life, and every other necessary thing.
You can explore different places even at night or in low light conditions, as this trike has an integrated lighting system. This one is equipped with a headlight and a taillight to ensure your proper safety.
3.   Addmotor SOLETRI M-366X Electric Tricycle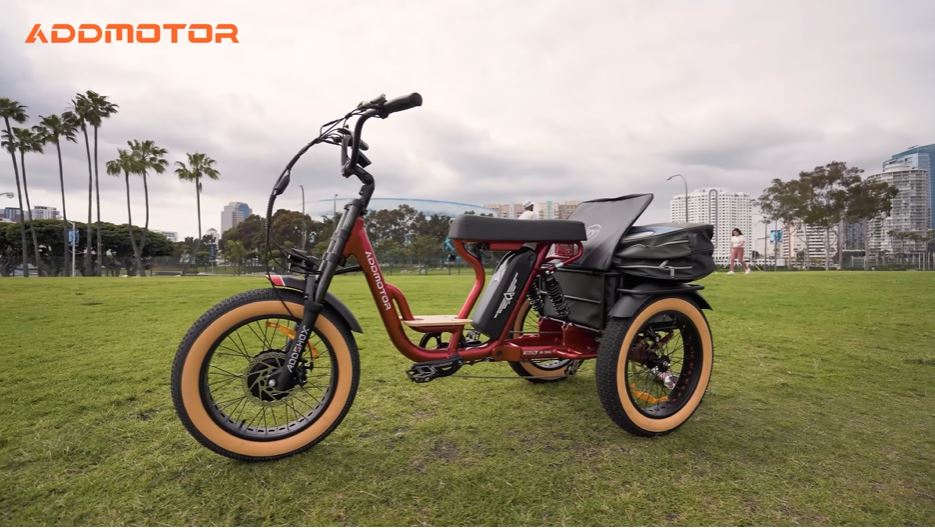 Addmotor's SOLETRI M-366X electric trike for 2 adults is our last recommendation, and it also comes with some exceptional features. Let's see its offerings:
Powerful Motor And Battery:
Like every other electric trike, the SOLETRI M-366X also comes with a powerful battery and motor. The 48V/20Ah battery offers an 85+ mile range with a single charge, and the 750W motor offers 20 mph of speed without pedal assist.
No matter if you're short, tall, or even elderly, the M-366X will be a perfect fit for everyone. It comes with a step-through design, which makes it easy to ride and get on or off the bike.
Font And Rear Suspension:
Addmotor's SOLETRI M-366X gives you comfortable and effortless riding even on the toughest roads with the help of its suspension. Front and rear suspension give you comfortable riding in all types of terrain.
You would never need to worry about safety as this Addmotor model comes with a parking brake system. It's the most responsive braking system that will keep you safe from all kinds of incidents.
When you want an electric trike for 2 adults, it's necessary to get a trike like the SOLETRI M-366X. It's designed with a big and long comfortable banana saddle where two individuals can easily sit.
Final Thoughts
These three adult electric trikes are something to think about if you're about to invest in one. All of them are reliable enough to give you top-notch service for years to come.
Included are three etrikes with different price points as well as functionality. So again, check out the reviews, or you can head over to the official website to learn more about them.
I'm sure you're going to like one of them and will not regret purchasing one of them for your personal usability.